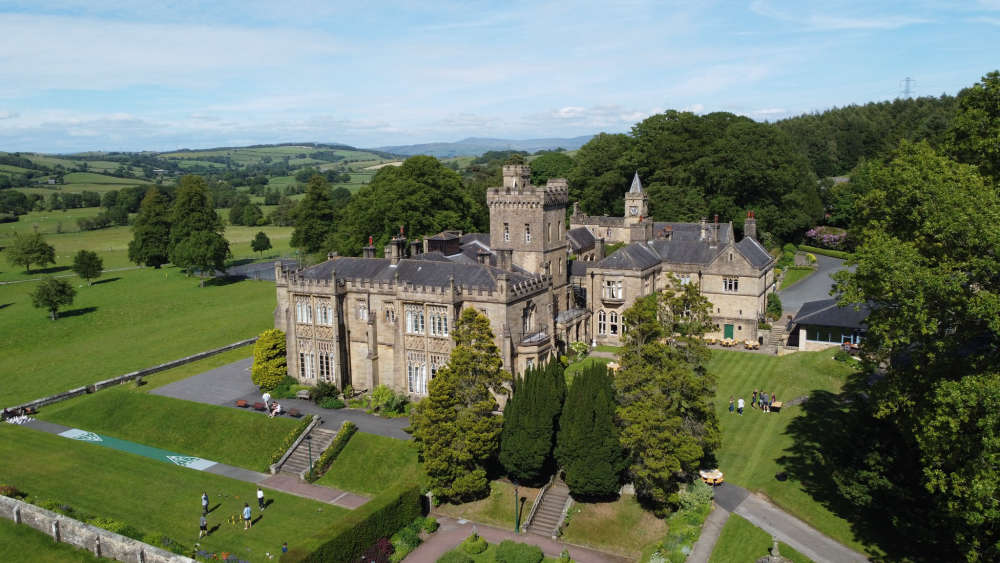 A historic landmark near Carnforth had been removed from Historic England's annual Heritage at Risk Register.
Capernwray Hall and Garden has been taken off the register, which is produced every year, and is a summary of the critical health of some of England's most historic landmarks, with a number of other buildings across North Lancashire and Morecambe Bay named.
Historic England said that ''considerable works have been undertaken by the owners, including the restoration of the Mawson rose garden, repairs to the entrance terrace and the landscaping to the north and south of the main building.
They added: ''A conservation management plan has been produced for the site with tree planting across the parkland, restoration of woodland and repairs to the steppingstones across the River Keer.   
The landscape at Capernwray Hall is a fine example of provincial 19th-century design with formal gardens and informal parkland. Part of the garden has been attributed to Edward Kemp who was an influential landscaper of the time. In 1901 a rose garden was added, the work of nationally renowned garden designer Thomas Mawson.  
The estate was purchased by Major Ian Thomas and his wife Joan with the goal of creating a missionary centre for young people. Major Thomas, a decorated veteran of Dunkirk and Monte Cassino during the Second World War, saw the potential to create a place of tranquillity and peace for religious teaching of young people scarred by the effects of war. Visiting students to the bible school help with the conservation works.  
The Register includes buildings and structures, places of worship, archaeological sites, battlefields, wrecks, parks and gardens, and conservation areas known to be at risk as a result of neglect, decay or inappropriate development.
The local landmarks on the list and deemed to be 'at risk' include:
The Winter Gardens, Marine Road Central, Morecambe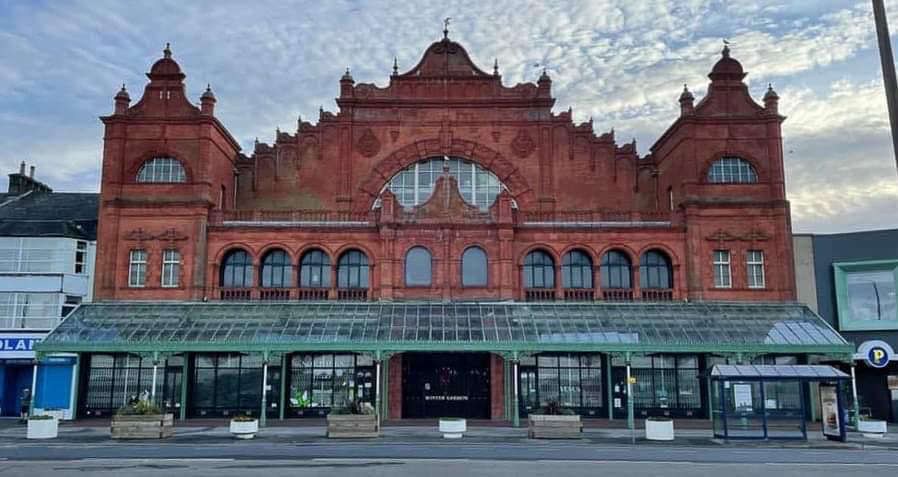 'Theatre with a facade of red terracotta and brick. Morecambe Winter Gardens Preservation Trust owns and looks after the building. In 2021, a new heating system was installed with a Coastal Communities grant and a Historic England Repair Grant for Heritage at Risk funded a first phase of repair to the fibrous plaster ceiling. This was followed by a second phase funded through the Culture Recovery Fund, including repairs to the roof. An options appraisal is looking at how more of the building can be brought back in to use, and a costed condition survey is planned.'
Church of St John, North Road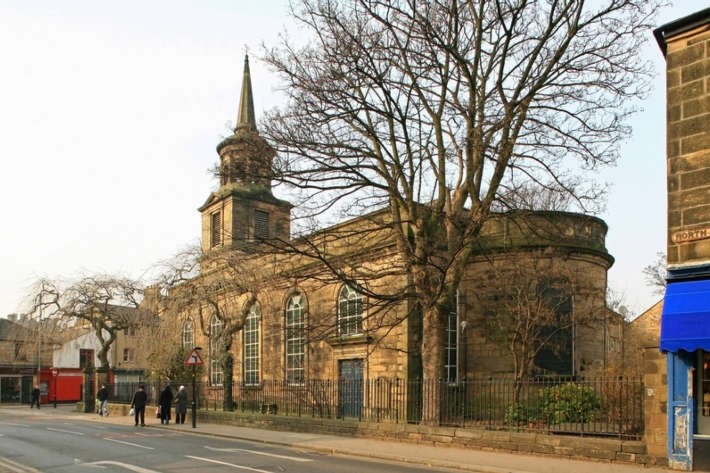 'Church built in 1755, with a tower by Thomas Harrison added in 1784. Nave with galleries to three sides and original box pews. Closed in 1983 and in the care of the Churches Conservation Trust. Damaged by flooding in 2015 and currently unoccupied. Structural movement at the east end has resulted in instability and cracks in the outer ashlar masonry and plaster. Water ingress problems are also occurring below the tower. Gutter blockages have resulted in water ingress and dry rot is now affecting the roof timbers.'
Queen Victoria Memorial, Dalton Square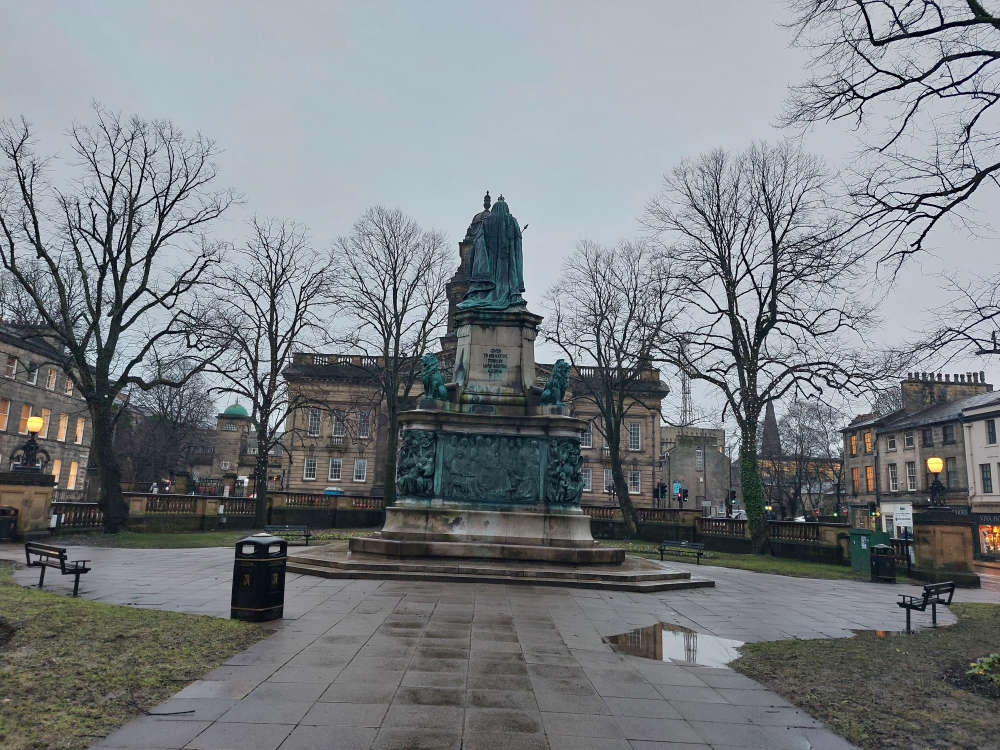 '1906 monument to Queen Victoria by Herbert Hampton, presented by Lord Ashton. Portland stone ashlar with bronze reliefs and statuary. Topped with a statue of Queen Victoria with side bas-relief panels portraying groups of eminent Victorians. Problems include corroding bronze, graffiti, staining of the stonework and pointing. The local authority hopes to conserve the memorial.'
Engine Running Shed and associated locomotive facilities, Carnforth
'Engine shed for steam locomotive stabling and servicing built between 1940-44. Rectangular plan form of six standard gauge tracks with full length inspection pits and wheel drop pit to the eastern track way. Associated facilities include a range of machine shops flanked by stores and offices. The wheel shop has its wheel lathe served by a travelling crane which crosses the eastern most line. At the northern end of the range are a sand drier, store and loading platform. The condition of the reinforced concrete frame is very poor and deteriorating.'
Former Chapel of St Mary in the grounds of Ellel Grange, Ellel
'Former chapel built on the Ellel Grange estate in 1873 and designed by W and G Audsley. A striking building in the High Victorian style with ceiling paintings and good quality internal fittings, some of which have been stolen. The building has been vacant for at least 17 years. In 2006-7, Planning Permission and Listed Building Consent were granted for repair and extension. Work has not commenced and permissions have now expired. The LPA is currently in discussions with the owners to achieve a scheme of repair and reuse.'
Church of St Joseph, Owen Road, Lancaster
'Church of 1900 by Pugin and Pugin. The 5 bay nave has aisles and a west tower. Constructed in sandstone and slate with an elaborate carved reredos in the sanctuary. Failure of weatherings to east and west nave gables allows water penetration and consequent damage to linings and finishes. Embedded roof timbers are also threatened. Further water penetration is occurring from wall head and valley gutters.'
Church of St Michael, Main Road, Bolton-le-Sands
'Church with C15 west tower, nave of 1813, chancel of 1846 and north aisle of 1880. Sandstone and slate. The building has been the subject of heritage crime, and failure of the lining to the central valley gutter has allowed water ingress. This has encouraged decay in the roof timbers below the valley and damaged wall linings.'
Castle Stede motte and bailey, Hornby
Cockersand Premonstratensian Abbey, Thurnham
Church of St Margaret, Main Street, Hornby
Beetham Hall (curtain wall and uninhabited portion)
Hazelslack Tower
Arnside Tower
Church of St Peter, Woodhouse Lane
Low Gatebeck gunpowder works
Wraysholme Tower
Church of Holy Trinity and St George, New Road, Kendal
Church of St Anne, Meadowcroft, Ings
Steamer Street Tenements, Barrow
St George's Square, Barrow
Church of St Mary of Furness, Duke Street, Barrow
Castle Hill, Furness
Newland Blast Furnace (Blacking Mill only)
Backbarrow Ironworks (unrepaired buildings including Pug Mill, storehouses and manager's house)
Lowwood Gunpowder Works
Gleaston Castle, Gleaston