Vintage Bus Day 2022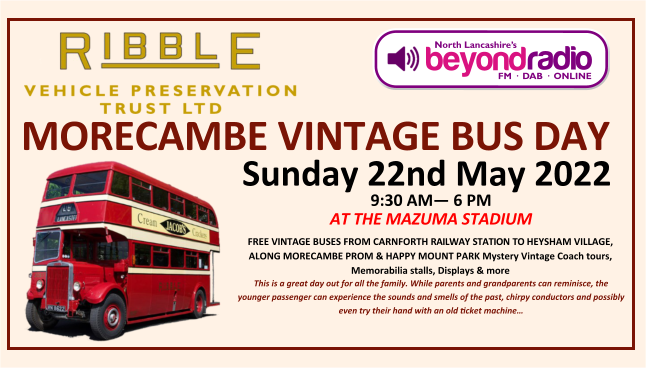 Ribble Vehicle Preservation Trust
Morecambe Vintage Bus Day 2022
SUMMARY
The RIBBLE VEHICLE PRESERVATION TRUST will again be operating its popular 'Vintage Bus Running Day' in Morecambe Sunday, May 22nd, 2022 at the Mazuma Stadium.
With a selection of vintage buses, many from the old local Ribble Company, RVPT will operate a FREE service from Carnforth railway station, Happy Mount Park and Heysham Village to the Morecambe Football Club & Promenade every 10/15 minutes from about 09:30 to 18.00.
As well as a display of vintage buses and coaches at the football club and on the Promenade, there will also with open top tours subject to good weather.
This is a great day out for all the family, while parents and grandparents can reminisce, the younger passenger can experience to sounds and smells of the past, chirpy conductors and possibly even try their hand with an old ticket machine…
With additional easy access to Morecambe from the M6 via the Bay Gateway, you could start your public transport day out with great train links to Barrow in Furness, Skipton and Leeds or catch the bus from Preston or the South Lakes.
We will be offering bi-directional bus stops at Carnforth Station, Morecambe Winter Gardens, Happy Mount Park, Mazuma Stadium and Heysham Village, there is ample opportunity to get a good Sunday lunch, take in a stroll on the prom and grab an ice cream.
In addition, there will be the popular Bare Circular service, with pickups from Bare Lane Station, Stalls selling memorabilia and Three mystery tours (approx. 40 minutes) on vintage coaches
Programmes available on the day for £4 with a full details and timetables or available in advance by contacting events@RVPT.co.uk
VINTAGE BUS RUNNING DAY
The Ribble Vehicle Preservation Trust is organising its tenth 'Vintage Bus Running Day' on Sunday, May 22nd, 2022. Preserved buses ranging in age from 1931 to 2004 will be available to operate a free service between Heysham Village and Carnforth railway station via Morecambe promenade and Happy Mount Park. The service will operate every 10/15 minutes between Happy Mount Park and Heysham and between Heysham and Carnforth. Buses will operate from 09:30 to 18.00. Passengers may board at the Winter Gardens or the three termini but there are no other intermediate stops. There will be an additional "L14 Bare Circular" operating on a frequent basis from outside the Winter Gardens on the promenade. A vintage coach will also offer "mystery tours" in the afternoon.
As well as the service there will be a static display of buses and coaches at Morecambe Football Club and on the promenade. The main theme of both the service and the display will be buses which operated with Ribble Motor Services but other local operators will be represented, including Morecambe & Heysham, Barrow, Preston and Blackpool.
So why not come and take a photo under the famous clock at Carnforth Station and catch the vintage bus for afternoon tea at the 1930's art deco Midland Hotel's Rotunda bar overlooking the beautiful Morecambe Bay.
Who are we:
Ribble Vehicle Preservation Trust (RVPT)
The Ribble Vehicle Preservation Trust is a bus preservation group which was set up 45 years ago. It is a registered charity which houses its collection at its own premises in West Lancashire. The Trust has grown over 45 years and own owns its buildings and land but we are not a static museum open to the public. Instead our policy is to bring the museum to you. We enjoy taking the buses out to public events so that everyone can enjoy the experience of travelling on old buses, and maybe recall traveling to school, work or holiday. The collection spans the period from 1931 to 1996 and totals over 30 vehicles. About a dozen are restored and available for service.
Further details can be found at www.rvpt.co.uk or www.facebook.com/RVPT.events
Who was Ribble:
Ribble Motor Services
Ribble Motor Services were your local bus company. Set up in 1919 and expanding rapidly during the 1920s and 1930s, it was very much a sort after job being a Bus driver or Conductor with Ribble. By the 1950s it was one of the largest bus companies in the UK with over 1300 buses and at its height of operations in 1956 it was reported to have carried 216,648,878 passengers that year. Operations were from Carlisle in the north to Liverpool and Manchester in the south, from Blackpool in the west to Skipton in the east. Morecambe and Lancaster were home to two of its depots, one at Skerton, now Chelsea Mews and the other at South Road, now Little ASDA.
As part of the build up to deregulation and privatisation in the mid-1980s Ribble was split up and eventually the services in central Lancashire and north to Carlisle became part of Stagecoach with south Lancashire & Liverpool becoming Arriva and Transdev operation in East Lancashire.