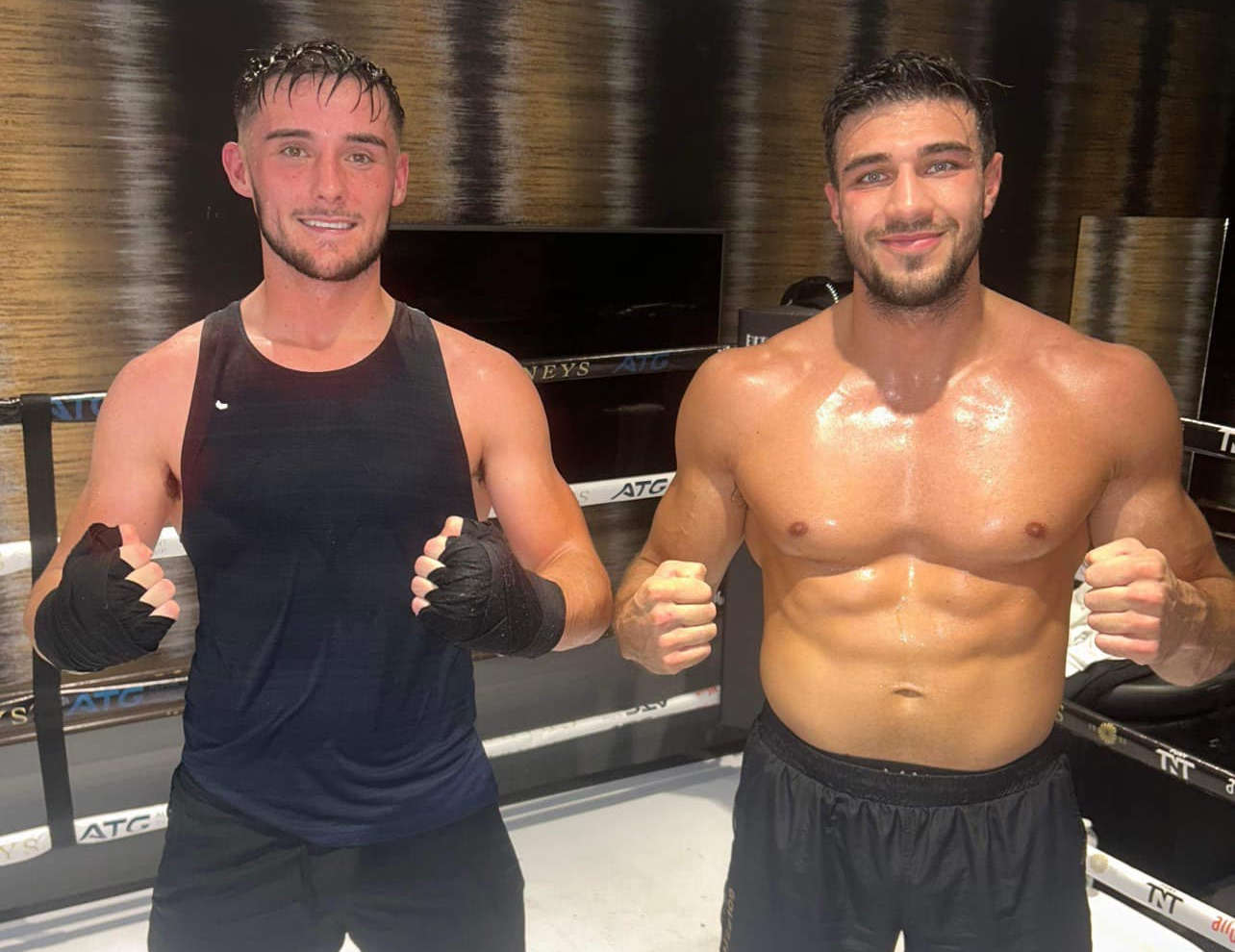 Morecambe boxer Owen 'The Captain' Kirk has called KSI "a pretender" after the social media star publicly mocked him as Tommy Fury's choice of sparring partner.
The local middleweight has been sparring with Fury as both prepare for big arena fights later this month.
Kirk will take on Paddy Lacey at the M&S Bank Arena in Liverpool on October 21 while Tommy faces musician and online video creator-turned professional boxer KSI at the AO Arena in Manchester this Saturday (October 14).
But KSI, real name Olajide Olatunji, caused a stir in the build-up when he had a pop at both Fury and Kirk on the social media platform X, formerly Twitter.
He posted a photo of Owen and said: "Tommy Fury's final spar...Tommy ain't taking me seriously" along with three laughter emojis. He followed this up with a foul-mouthed rant on Instagram.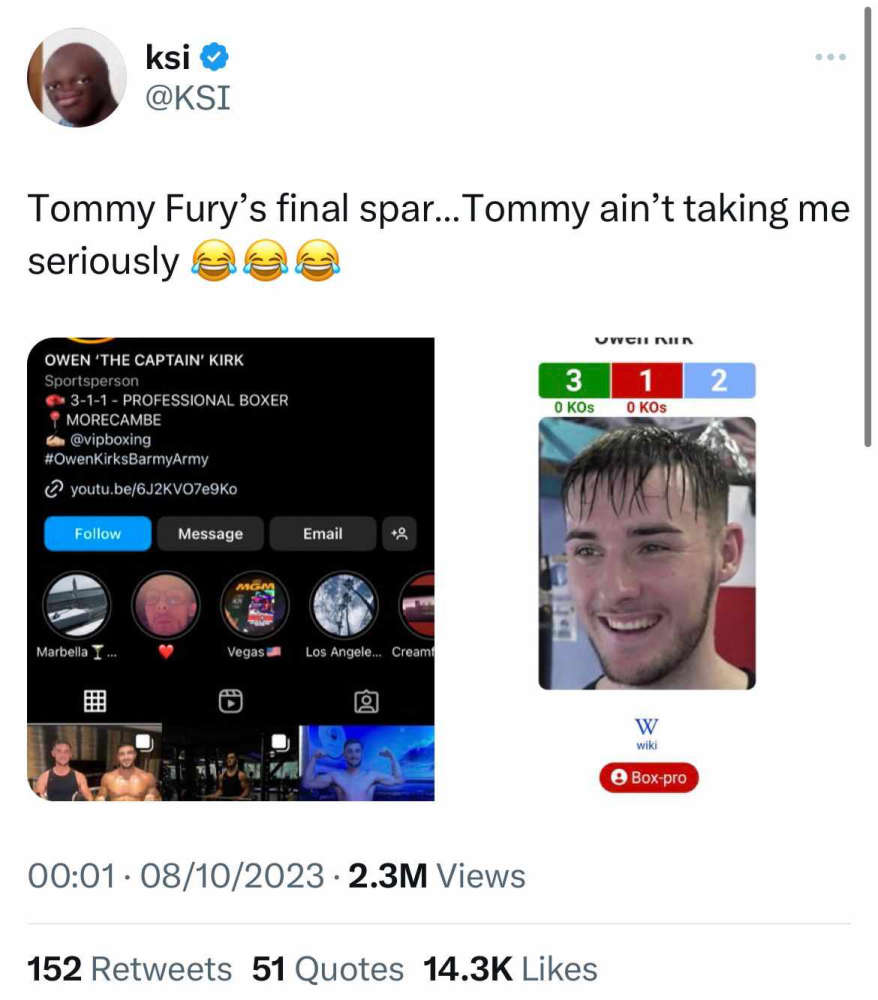 Kirk, who has a professional boxing record of three wins, two draws and one defeat, said he felt KSI was "unprofessional".
Speaking to Beyond Radio on Monday, Kirk said: "On Saturday night I was watching a boxing match and then afterwards I thought I'd get myself to bed, get my rest in, and then my phone starts going crazy and I see KSI has been putting a few comments about me online.
"He's been saying some silly things really. He's talking like he knows boxing but really he's just a pretender. He's going to get found out this Saturday night.
"KSI wants to dig me out online, let Tommy deal with him and then we'll see where we go from there."
LISTEN to our full interview with Owen 'The Captain' Kirk
KSI (pictured below), like Tommy Fury's last opponent Jake Paul, turned to professional boxing after first finding fame as a social media influencer.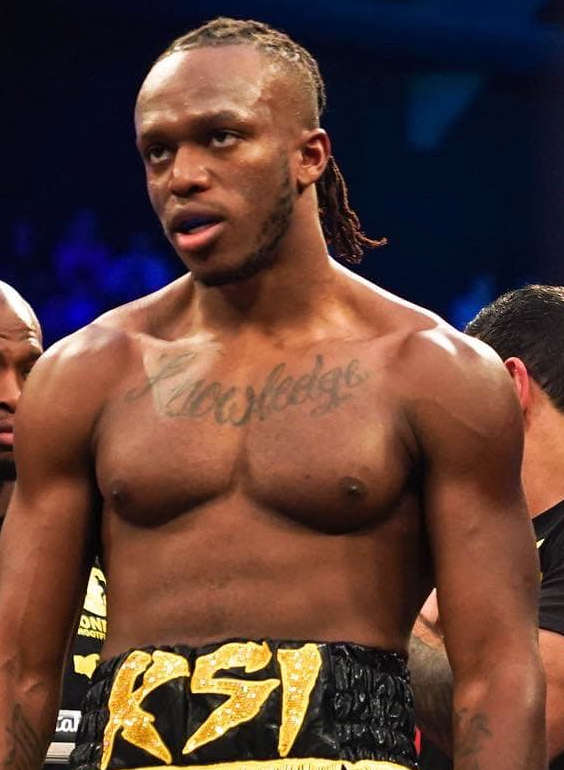 The Londoner has 8.9m followers on X and 13.2m followers on Instagram, so by targeting Kirk he has certainly boosted 'The Captain's profile.
"Yeah I've had a lot of social media attention since that's all come out," said Kirk.
"I'm taking all the positives from it. He's shouted me out, I'm just a normal hard working man providing for his family, doing it the hard way.
"He's decided to take up boxing because he's an entertainment personality. He's done singing, YouTube and whatever, and he's having a go at boxing, but he's never done it the hard way and he doesn't understand the respect and the professionalism of the boxing game.
"For him to come at me like that, it's very unprofessional of him.
"He needs to focus on what's aheads of him. There's no respect from him towards me so there's no respect back.
"I know Tommy's going to smash him. But I'll be even more excited now when Tommy does smash him. I'm just going to laugh. There will be no respect there, from me."
Fury, 24, has won all nine of his professional contests. He is the brother of Morecambe-based world heavyweight boxing champion Tyson Fury, appeared on the recent smash hit Netflix series 'At Home with the Furys', and first became famous on the reality TV show Love Island. Tommy often trains in the Morecambe area alongside his brother.
Owen (pictured left), meanwhile, says training for his fight with ex-pro footballer Lacey has been "smooth sailing and positive vibes".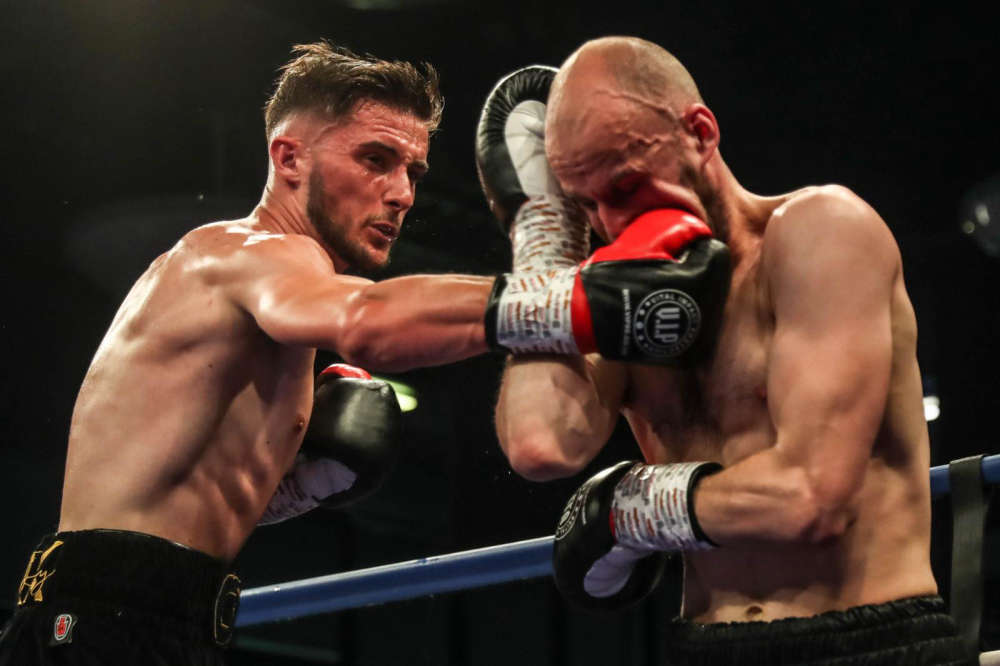 "I feel good and I'm surrounded by all the best people.
"The last few weeks I've done many rounds with Tommy. We're both getting ready, bringing the best out of each other and sharpening the tools for fight night.
"It's going to be electric on the night. I've got a good test in front of me. I know it will be no easy fight but this is what I want. I want fights where there are question marks around it, I want someone knowing that when I go to sleep at night, I'm getting up in the morning for a guy who wants to hurt ne and wants to beat me. This is the challenge and test that I want to take."
Kirk is coming off two back-to-back draws in bruising and crowd-pleasing fights, including his last outing with Rhys Woods in July, which he said was "the worst performance of my professional and amateur boxing career".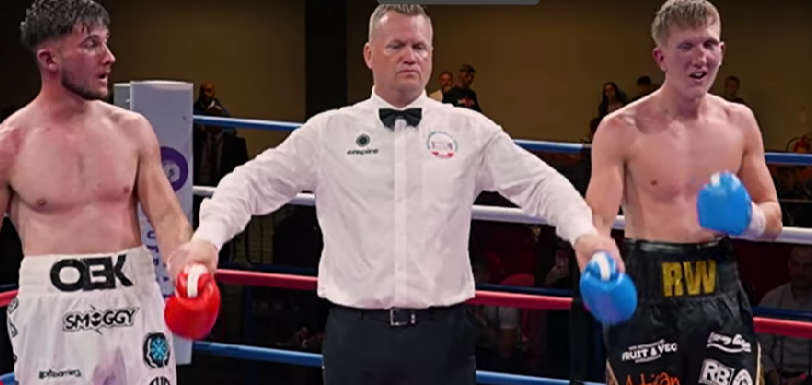 "The night leading up to it was hell," he said.
"I had all sorts going on outside the ring. There's no excuses, but I had a few problems. All the outside noise I had going on, I think it was still there, and I should have focussed on fixing it before taking that fight. The whole thing was just a bad day at the office. I can't argue with the draw.
"You've got to take it as a learning curve. This next fight, I've had a great camp, there's no excuses. I'm mentally and physically good, surrounded by great people and ready to rock 'n' roll."
Owen Kirk fights Paddy Lacey on Saturday October 21 at the M&S Bank Arena in Liverpool on the undercard of Lancashire light-welterweight Jack Catterall's big fight with former three-weight world champion Jorge Linares.
Tickets are on sale now and are available by contacting Owen Kirk via his social media channels.