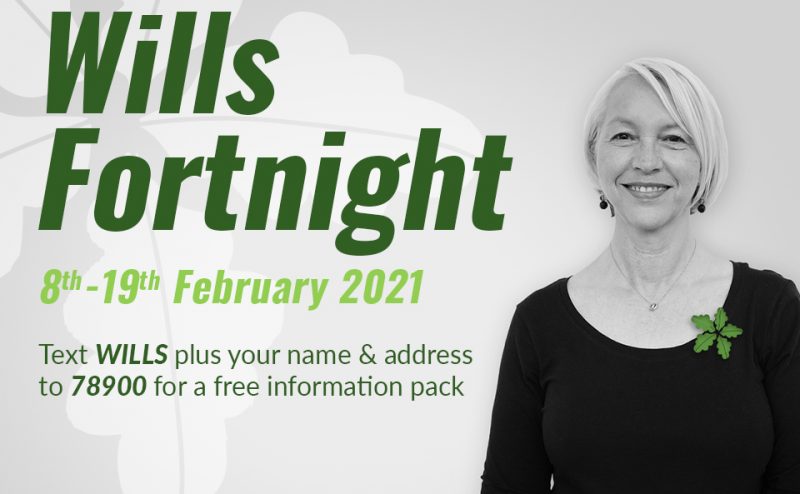 St John's Hospice Wills Fortnight returns Monday 8th – Friday 19th February 2021 and you are invited to make a new will or revise their existing will as part of their annual 'Wills Fortnight' 
The hospice are fortunate to have a partnership with a number of valued local law firms who, during the St John's Hospice Wills Fortnight in February 2021, can help you write or change your will quickly and inexpensively. These local solicitors provide their time and services to you free of charge during this fortnight.
In return, we would encourage a donation to your Hospice. How much you donate is entirely your decision but as a guide we would suggest £175 for a single basic will or £250 for a pair of basic mirror wills.
By encouraging supporters to make a Will we are, of course, hoping that you will make a donation in lieu of the solicitors' charges. We would also hope that, after your loved ones are taken care of, you might consider leaving your Hospice a gift, however small, to help support our work into the future. Your generosity will make a big difference to our patients both now and in years to come.
Recently Stuart from the hospice chatted to Beyond Radio's Nathan Hill about the week, you can see that again here: (tap to play)
WHY WILLS MATTER?
Making a Will is a very important decision and not to be taken lightly. After all, your lifetime wealth and your belongings are things you've worked hard for and it's reasonable that you should be the one who decides what happens to them after your death. If you don't, the law decides for you and the result might not be what you want.
A professionally drafted Will makes sure that your wishes are clearly understood and specifies who you want to appoint to make sure that they are adhered to. This person or persons is/are your Executors and can be family members, friends or, quite often, the firm of solicitors that helped you with your Will. The choice is yours and like everything else in your will, it can be changed at a future date.
IS IT DIFFICULT AND COSTLY TO MAKE A WILL?
No. All you need to do is decide who will benefit and how, then choose the right individual or people to make sure it happens after your death.
Take advantage of St John's Hospice Wills Fortnight and there is no cost.
MORE INFORMATION:
You can download the St John's Hospice Wills Information pack here: https://www.sjhospice.org.uk/app/uploads/2021/01/WIlls-Fortnight-2021-How-it-Works-V1.1-St-Johns-Hospice.pdf
You can download the donation form here: https://www.sjhospice.org.uk/app/uploads/2021/01/Wills-Fortnight-Donation-Form-V1.0-St-Johns-Hospice.pdf
You can download the 'Gifts in Wills' form here: https://www.sjhospice.org.uk/app/uploads/2021/01/Leaving-a-Gift-in-your-Will-V1.0-St-Johns-Hospice.pdf
To register your interest you can call the hospice on 01524 382538 or visit their website: https://www.sjhospice.org.uk/