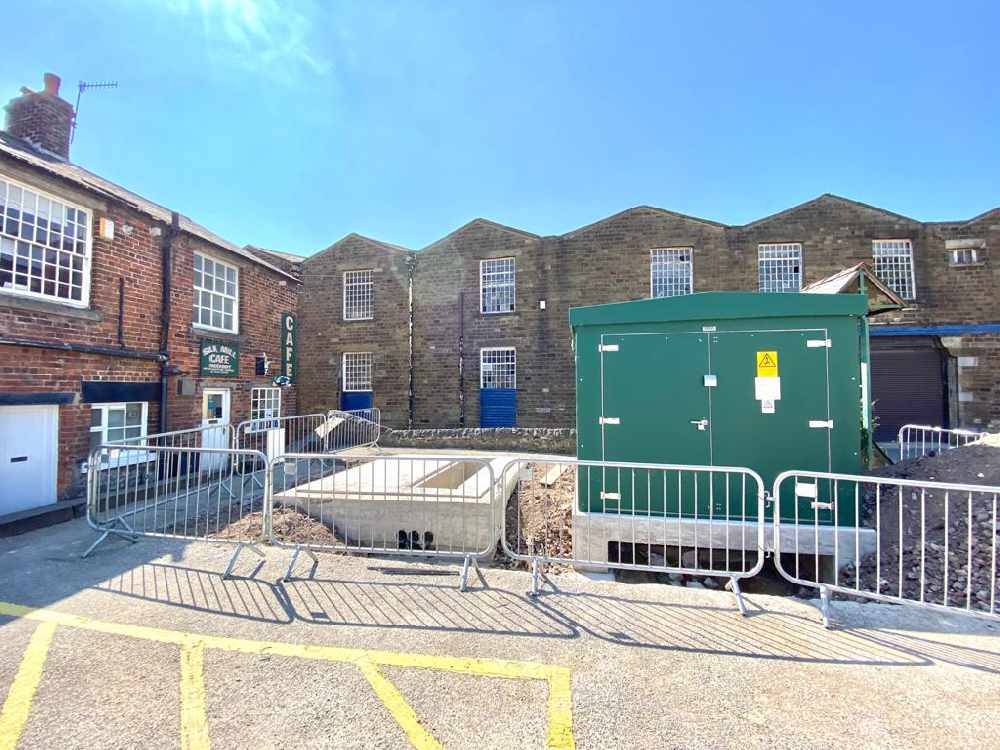 The first of two electricity sub-station structures at Galgate's historic silk mill.
Residents in Galgate and business owners at Galgate Silk Mill have expressed their dismay over the placing of two large electricity sub-station buildings in front of the mill.
The Silk Mill, reportedly the first mechanical silk spinning mill in the country and listed under the Planning Act for its special architectural or heritage interest, has been undergoing extensive conversion to apartments in recent months. It is thought the majority of these apartments will be used as student flats. Recently a large electricity sub-station has appeared in the mill car park, with a base prepared for a second, which is set to overshadow or block the approach to a number of businesses that operate from the old mill offices. A local resident contacted Beyond Radio to express their dismay over these sizeable structures being placed in front of what many feel is an attractive and locally historic building. They said,
"I like to come and sit outside the cafe with a relative from the care home next door but now you'd have to sit in the car park away from the cafe. Who wants to sit in a car park to have a drink or something to eat? You probably wouldn't know there's even a cafe here if you were passing by and some of the other businesses at this side of the building are overshadowed also."
They went on to say, "Even though the mill site hasn't been properly looked after for many years and it has lots of small businesses operating here, it's a historic site and some consideration should have been given to how it looks. What's in front of the old office block now is a large, unsightly plastic looking green box, with another on the way it seems."
One business owner operating out of the mill said that Electricity North West Ltd, who are responsible for siting the sub-stations, said that they didn't need planning permission so they could put the sub-station boxes where they liked. He went on to say, "We rely on passing trade, this could really affect our business as we are pretty much going to be hidden from public view now. I think it's irresponsible, there was no consultation and they don't seem to care."
Another local business owner from elsewhere in the village said, "I pass the mill every day and was really surprised when the first building which is the size of a large garage went up. It did make me think why they hadn't chosen a less obvious place. I'm sure there's plenty of room to hide these structures at the back of the mill. It has changed the whole look of that part of the mill, which is a shame."
Electricity North West Ltd were contacted for comment but have so far made no response on the matter.
The second sub-station is due to be installed in the coming months.