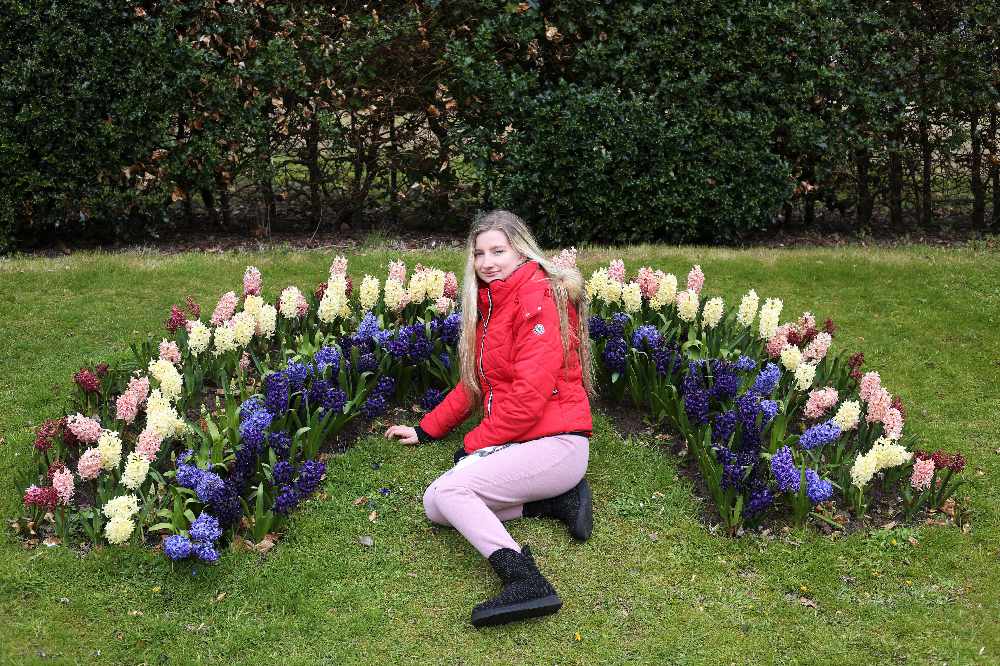 Niyah Hunter with her record rainbow of hyacinths at Nazareth House
A local teenager has set a record while taking part in a community project bringing the grounds of a Lancaster nursing home to life.
Niyah Hunter from Lancaster set the record for planting the most hyacinth bulbs in the shape of a rainbow in less than an hour when she planted 266 bulbs in 59 mins 25 secs in the grounds of Nazareth House.
Niyah, 17, who's a member of Lancashire Youth Challenge(LYC), suggested the idea when the Lancaster-based youth charity decided to ask young people to set some new records during lockdown.
The hyacinths were planted in the shape of a rainbow to honour the work of the NHS and this spring, they have been enjoyed by Nazareth House residents and staff.
Niyah's record bulb planting was filmed and sent to the Recordsetter website which celebrates world record attempts.
The challenge was supported by Lancashire County Council's COVID-19 Community Support Fund and the Home Office COVID-19 support for vulnerable children's charities: Violence Reduction Unit.
Improving the grounds of Nazareth House was LYC's community impact project last year when young people worked with Lune Valley Community Beekeepers to refurbish and rewild a two acre piece of land there.
They helped to clear four tonnes of dead wood, chip it to create a path, create homes for birds and hedgehogs, assist with the care and management of the bee apiary and plant wildflowers.
LYC chief executive, Guy Christiansen, said: "The 2020 Woodland Challenge is a perfect example of young people making a positive and meaningful impact in their local community, and we at LYC are exceptionally proud of their hard work
Lancashire Youth Challenge is a dynamic charity which enables young people to build confidence and resilience via an exciting year-round programme of personal development and wellbeing programmes, creative arts activities, community impact projects and cultural education events.