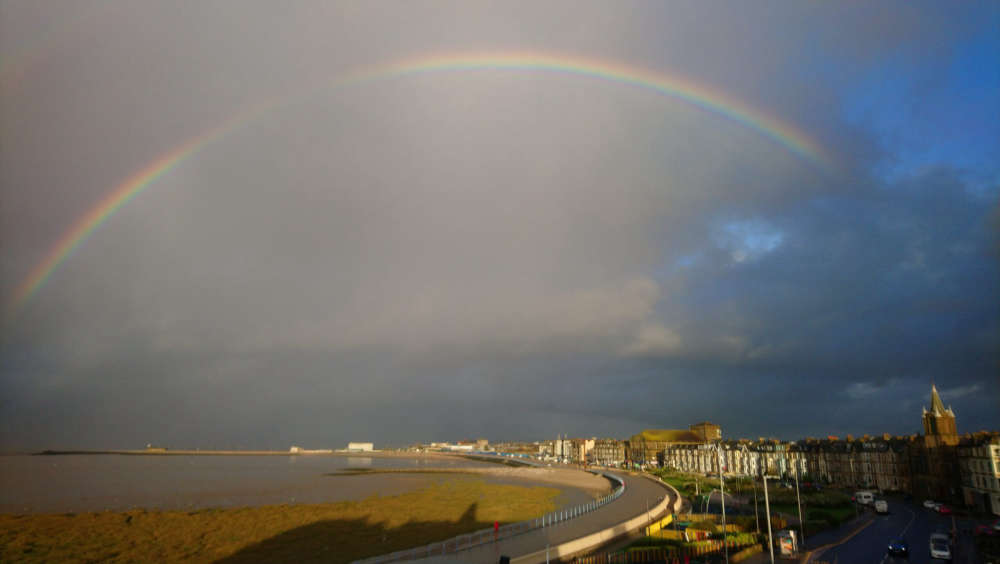 Wayne Drinkwater's winning photograph
People with a connection to the West End of Morecambe have entered a new photographic competition capturing aspects of life in the town during the COVID-19 pandemic.
The competition was organised by West End Morecambe(WEM) - Big Local, a community partnership that works to help improve the West End and they were delighted with the entries.
The winning photograph of a rainbow over the West End and Promenade at the start of the second lockdown on November 5 was chosen because the judges felt it perfectly captured the sense of hopefulness emerging above the gloom and reflected how many people feel right now.
The image was taken by Wayne Drinkwater who said it showed West End Promenade 'in all its glory." He will receive a £50 prize for his photograph.
It was the first time WEM had run a photographic competition which was open to anyone who lives in, works in, or has visited, the West End of Morecambe and they may repeat it at some point in the future.
Among other entries were Morecambe Blue, showing the bay at low tide, by Dr Mahmoud El-Haj and Darren Andrews photographs of the Tern Project at sunset and the Eric Morecambe Statue wearing a mask.
Mahmoud took his teenage niece to show her the bay as she'd never seen it before. "We were amazed with how blue it was on that day. The photo shows a low tide with little water left behind but enough to reflect the sky's blue colour and give that illusion of floating pebbles."
Darren said he took the photo of a masked Eric Morecambe statue because he thought it spoke volumes for the COVID 19 crisis which the world was facing in the spring of 2020. In the summer of that year, he took Promenade Sunset because he "thought the light and dark in the photograph was a reminder of the times we are living in at the moment."
All the entries can be viewed at https://westendmorecambe.co.uk/2020vision/