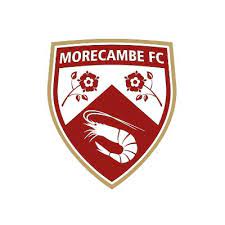 The departure of Derek Adams following Morecambe's promotion to Football League 1 brings an unseen challenge for The Shrimps.
In statement released on Morecambe FC's website about Adams decision to leave the club and take up the vacant manager's post at Bradford City Co-Chairman Rod Taylor commented, "Derek did a fantastic job during his year and a half at Morecambe, not only guiding the club into League One, but also acting as a catalyst for positive change and encouraging everybody at the club to aim higher.
"For all of that we thank him, and we wish him all the best for the future. However, the club is now solely focused on moving decisively to appoint the right manager to build upon the huge opportunity that promotion creates for both the football club and the town.
"That manager will be tasked with delivering the club's ambitious vision and strategy, and conversations have started already."
Co-Chairman Graham Howse added, "We are absolutely confident that we can recruit the right manager to move the club forwards.
"Not only in terms of competing on the pitch, but also in progressing player development and ensuring that every part of the club's football operations are run as effectively and efficiently as possible"
"This change and the timing of it presents a challenge, Morecambe Football Club will rise to that challenge and is relishing the test that awaits in League One."
Meanwhile Calos Mendes-Gomes, The Shimps top goal scorer last season and who put Morecambe in the driving seat with his penalty at last Mondays play-off has played down rumours he is to leave the Club after being linked to a move to Rangers or Sunderland.
Speaking on the website Chronicle Live, Mendes-Gomes said,
"It wasn't until I made the move to Morecambe that I began playing regular football. To come from there to score the winning goal at one of the most famous stadiums in the world where all the best stars have played has been incredible. We made history with Morecambe and I am very proud."
"Morecambe have just given me the happiest day of my career. That day at Wembley will be something I will be able to tell my grandchildren.