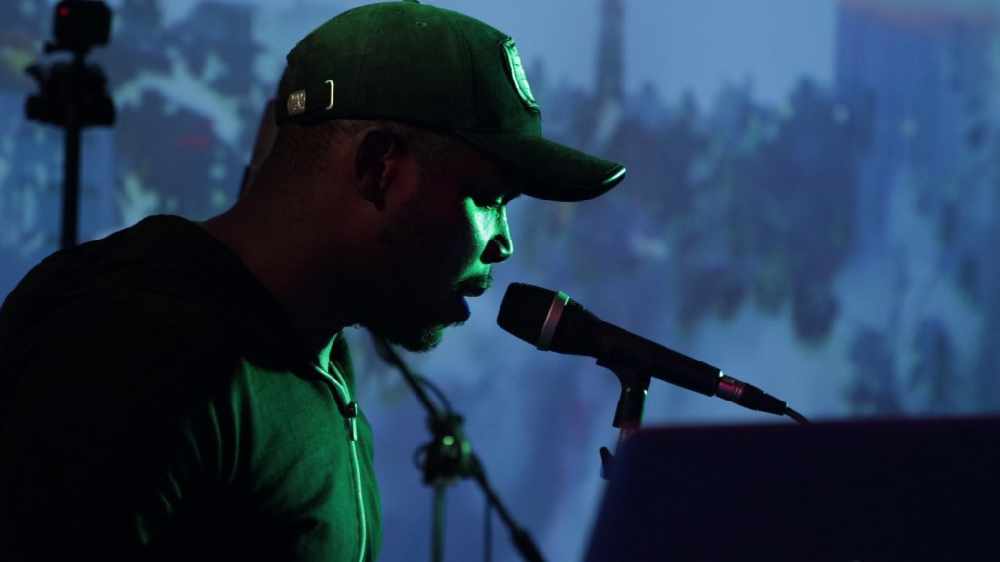 Viva Declaration, appearing during More Music's 2021 live music season
More Music is thrilled to be welcoming live music back to their venue in the West End of Morecambe from May onwards with a new programme of gigs, featuring diverse artists and musicians.
More Music's 2021 programme of live music kicks off with hilarious folk duo Belshazzar's Feast on Friday 21 May. Paul Hutchinson (accordion) and Paul Sartin (oboe, violin and vocals) have wowed audiences around Europe, The States and Australia for nearly 25 years with their virtuoso musicianship tempered by wry humour. They will be performing two shows at the Morecambe venue's Music Hall at 6pm & 9pm on Friday 21 May.
A new octet co-led by two Norwich musicians holding hands will be taking to the stage on Saturday 29 May. The octet, led by trumpeter Chris Dowding and saxophonist Rob Milne, features some of the most exciting improvisers in the UK, including saxophonist Dee Byrne (Entropi), trombonist Raph Clarkson (World Service Project) and tuba player Ben Higham (Brass Monkeys). The band will be supported by Lancaster contemporary composer and cellist Maja Bugge. Presented in partnership with Lancaster Jazz Festival.
Joining More Music for two performances on Friday 18 June at 6.30pm & 9pm, Viva Declaration present their new show Declaration. Combining poetic imagery with documentary narratives, audiences can expect sections of improvisation, interactive video and audio loops, spoken polemics, multi-layered rhythms and evocative melodic structures. There will be a Q+A after the show with the artists and Gisela Renolds and Zia Khan from Global Link.
Critically acclaimed and fanatically adored, Welsh born Beccy Owen brings her rich organic talent to Morecambe in the currency of bleary-eyed pain, yearning hope and chest-beating defiance. A songwriter of exceptional emotional resonance, her gig will take place on Saturday 26 June.
After a successful gig in 2018, More Music are thrilled to be welcoming back Robyn Hitchcock to Morecambe on Saturday 25 September. Since founding the art-rock band The Soft Boys in 1976, Robyn has recorded more than 20 albums as well as starred in Storefront Hitchcock, an in-concert film recorded in New York and directed by Jonathan Demme.
In the Autumn, Anglo-Irish all-female bluegrass quintet Midnight Skyracer bring their powerhouse vocals to the stage for audiences to enjoy on Sunday 10 October. With an all-star line-up, not only are they all masters of their respective instruments, but the vocal harmonies shared between the five members are second to none. The band's latest album "Shadows on the Moon" is out now on Island records.
More Music's Creative Producer Ben McCabe says 'After such a strange year for musicians and audiences it's really exciting to invite people back to the venue. We've all missed the buzz and communion offered by enjoying live events together and we're working hard to make sure that seeing incredible artists at More Music still feels friendly and fun as well as safe. Losing the chance to present shows this year has made me realise that this part of More Music's world is just as important for wellbeing as our more interactive programme and it's great to share these artists with our community at last!'
At More Music, the seating is set out to ensure you'll be socially-distanced and they are following full Government guidelines for social distancing, hospitality and cleaning procedures before and between performances. For more information about safety measure and guidance visit www.moremusic.org.uk/safety-measures
For more information, listings and to book gig tickets visit www.moremusic.org.uk/whats-on or call 01524 831997 (Monday – Friday between 10am and 2pm).