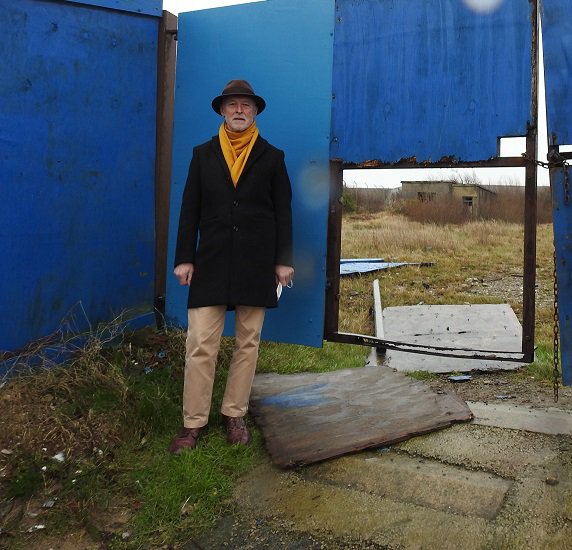 Paul Hart (Lib Dem candidate in the County Council elections for Morecambe Central) with some of the damaged fencing
Morecambe Liberal Democrat Councillor, Jim Pilling, has written to Morrisons, owners of the former Frontierland site, demanding action over the current state of the Morecambe promenade eye sore.
Councillor Pilling wrote to the company after a number of boards that were put up years ago along the promenade boundary of the Morrison's owned site blew down in recent bad weather, leaving the boards obstructing the pavement and the site open to access.
In his letter Councillor Pilling wrote. "The people of Morecambe have had to suffer the carbuncle that is Frontierland for over 20 years. During this time, Morrisons have made a lot of money from these people, many of whom will have to pass the site when using your store.
Along the whole seafront, from Heysham down to Happy Mount Park, this is by far the biggest blot on the landscape. You have a moral obligation to put this right, especially in a time when there are exciting developments planned for the town.
No doubt, for business reasons, you have decided to hold onto the land as it is until a final decision has been made on the Eden Project, but surely, in the interim, you should take steps to make the very visible perimeter fence look much more attractive.
As you know, it is located on a very visible part of the town, and the visual impact for both residents and visitors creates a very negative impression."
Mr Pilling went on to say that at the very least, Morrisons should consider brightening up the perimeter fence, perhaps with suitable artwork. He also pointed out that Morrisons are the land owners and are the ones who have the responsibility to the residents and visitors to show off the town in the best possible light.
A Morrisons spokeswoman said: "We listen to comments from our local community and have instructed our site agents to inspect the site so we can take the appropriate actions. Our development partners, Opus Land, continues to work behind the scenes and are reviewing redevelopment options."