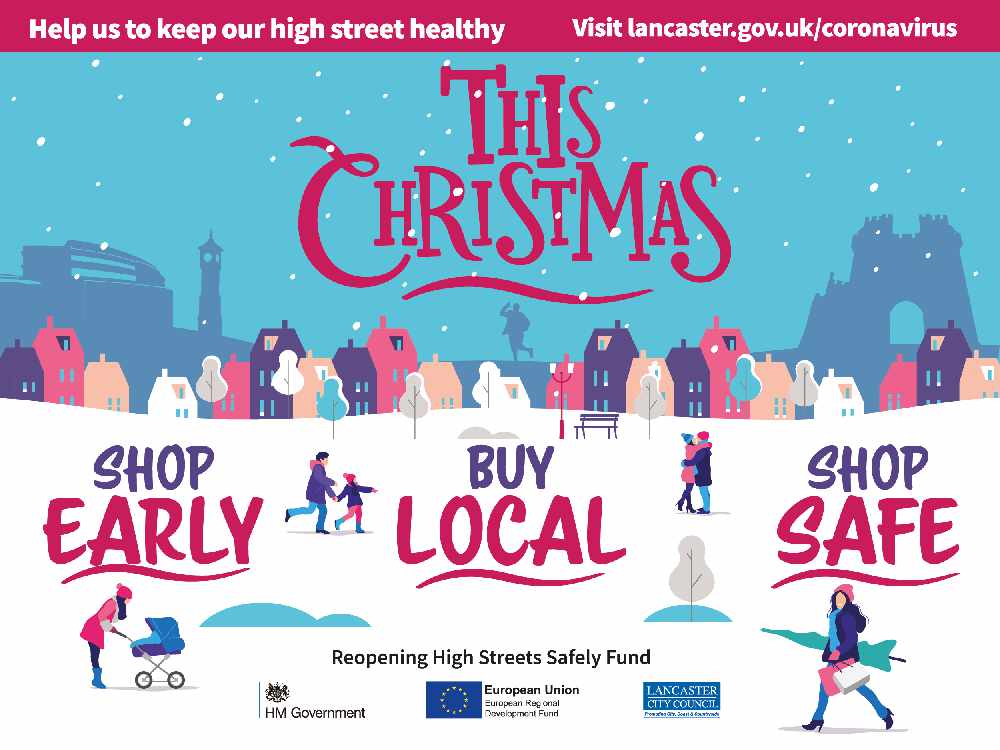 Lancaster City Council has launched a new campaign to encourage people to support local businesses this Christmas.
Covid-19 has had a dramatic impact on the district's economy and the run up to December 25 offers a great opportunity for people to help give local businesses a boost.
Under the banner of 'Shop Early, Buy Local, Shop Safe' the aim of the campaign is to remind people of the great range of local retailers on offer when thinking about Christmas presents for their friends and family.
At the same time shoppers are being encouraged to visit our high streets safely by following social distancing measures, wearing a face covering and practising good hygiene. Many shops are also opening late to allow more time for people to shop safely and avoid a last-minute dash the week before Christmas.
Councillor Tim Hamilton-Cox, cabinet member with responsibility for sustainable economic prosperity, explained: "There has never been a more important time for us all to show our support for local businesses. Shopping locally pumps money into the district's economy and helps to keep our residents in jobs.
"We're fortunate to have such a variety of quality businesses, catering for all budgets, styles and tastes, literally on our doorsteps, so let's use them!"
The campaign includes radio advertising, social media messaging, banners, and signage in retail centres. For more information on the campaign and links to a local directory of retailers visit Lancaster.gov.uk/shop-local.
John O'Neill, Manager of the Morecambe Business Improvement District, commented: "Now, more than ever, people should really support their local shops. These businesses employ local people who in turn spend their own money in the local economy, and send their kids to local schools. The more we keep our spending local, the better we can come out of this pandemic."
Tony Johnson, Manager of Lancaster BID commented "I know how hard ALL Lancaster's businesses have worked to make sure they are 100% ready for the re-opening of the city, not only have they worked hard on making everything compliant they've really worked hard on the look of their businesses in this "festive" period. It's time for us ALL to truly do our bit and "Love Local Love Lancaster".
For those that have not been allowed to reopen due to the district being put into Tier 3, the council will continue banging the drum for a localised assessment of restrictions.
Support and access to the grants available is via its business support team: email business.support@lancaster.gov.uk or visit Lancaster.gov.uk/business.
The campaign is part of the Reopening High Streets Safely project, which is being funded by the European Regional Development Fund.