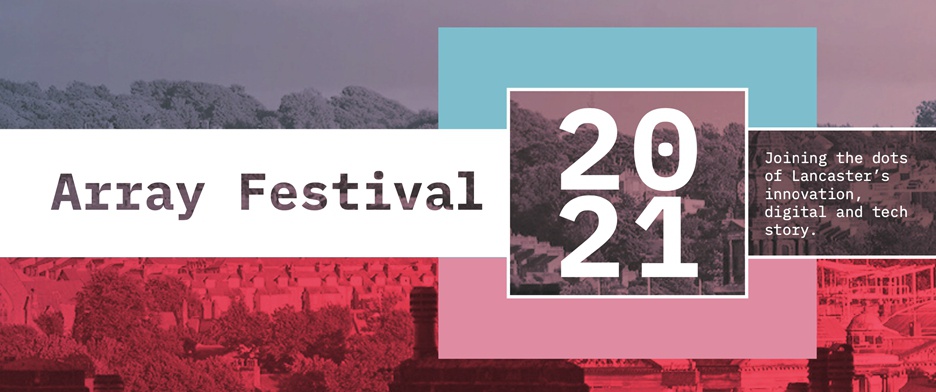 A free 4-day summit style celebration of digital, tech and innovation in Lancaster returns from 17th to 20th May.
The virtual event will be live streamed online from the new Fraser House digital and tech hub at White Cross and feature a wide range of inspiring talks, seminars and interactive sessions.
This year Array Festival will focus on key themes of Electech, Digital & Creative Innovation and Low Carbon technology. Sessions include one to one entrepreneur interviews, panel discussions, an online virtual networking session and even a live stream featuring guests from Lancaster's twin city of Växjö.
"This year Array Festival is moving up several gears," said event founder Dan Knowles. "We've got some incredible fast-growing businesses such as Relative Insight and Miralis Data who are recognised nationally. We have a growing cluster of Electech businesses in Lancaster which promises to create a range of future jobs. This needs shouting about."
Innovation is critical to future economic success and North Lancashire provides a hotbed of innovative businesses. "City regions like Lancaster and Morecambe are critical to the levelling up agenda. That's why we have asked Elizabeth Vega OBE to open the event this year. Elizabeth has a well-established relationship with the region and regularly advises government on addressing trade and innovation challenges in the North."
As well as businesses the event hopes to target young people considering careers in digital and technological industries. On the 19th of May there will be a virtual networking session where those considering such careers can speak directly with hiring managers from a number of key employers.
On the final day, the event closes with an uplifting session of 'lightning talks' from local innovators sharing their stories of innovation from the last twelve months, followed by a summary keynote address from leader of the city council Erica Lewis.
For schedule details or to book your free tickets for the virtual festival please visit www.arrayfestival.co.uk and follow #ArrayFestival on social media.