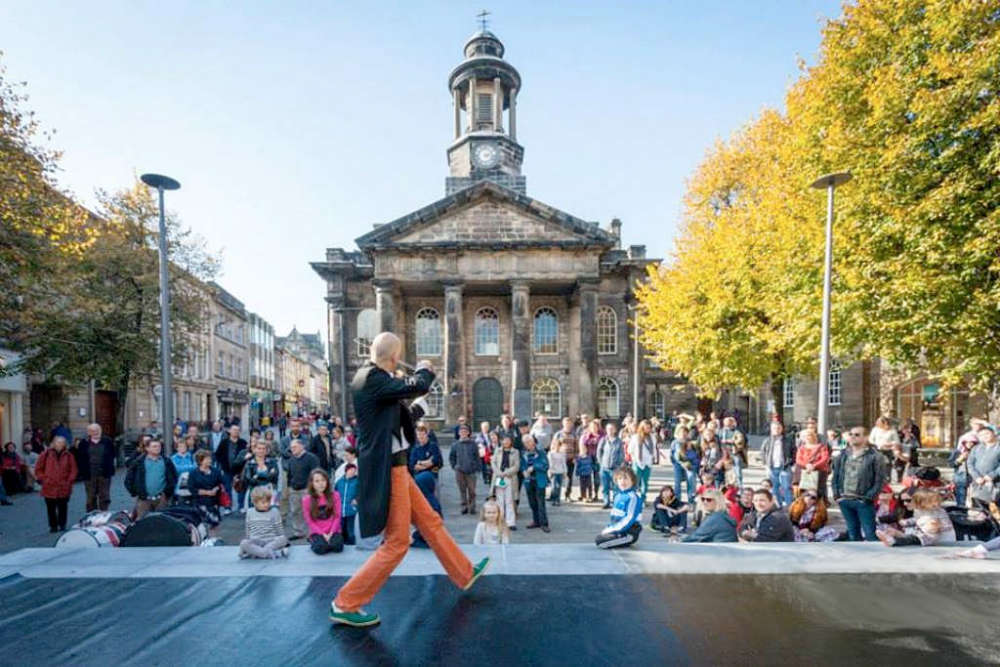 Lancaster Music Festival plans to celebrate all the city has to offer with outdoor events, 40+ venues and new stages. thanks to new partnership with Fear Records and support from Arts Council England and Lancaster BID.
Thanks to new a partnership with Fear Records and support from the Arts Council England and Lancaster BID, Lancaster Music Festival organisers are finalising the plans for this year's festival which will take place between Thursday 14th and Sunday 17th October.
The festival, which started in 2009, is now one of the country's largest urban music festivals, usually attracting in excess of 50,000 visitors over the weekend to enjoy a city-wide celebration of the area's musicians and venues. As with most businesses and events last year, Covid restrictions put the brakes on Lancaster Music Festival 2020.
Festival director Stuart Marshall says "Our planning this year has of course been influenced by the pandemic and the risk of cancellation. We've purposefully avoided any big ticketed events or big stages and that will allow us to rollback our plans more easily should we have to adapt to cancellation or restrictions. In a way that takes the festival back to basics and its origins, just on a wider scale".
Funding from the Arts Council will allow the board to create and implement an alternative plan should any restrictions be in place, with a mix of socially-distanced performances and online delivery of elements of the festival. The funding also allows greater collaboration with local music, dance, theatre and arts organisations which will produce a wide range of music-related performances, workshops and exhibitions aimed at all age groups. Lancaster Castle will be hosting the Melodrome mobile stage over the festival weekend where the courtyard will allow plenty of space for dancing, theatrics and a great range of eclectic acts. The Storey will once again feature as the festival hub, with a full programme of music in the Printroom Café and Auditorium along with music workshops, drum circles and music-related arts and crafts taking place in its upstairs rooms. These will be open to all age groups and ability levels. Thanks to the continued support from Lancaster BID, there will be an exciting programme of outdoor events in Lancaster's historic squares and streets.
As in previous years, the outdoor events will be aimed at bringing family fun and an array of events for all ages to enjoy. This will include youth stages, dance performances, street theatre, sound trails and much more. There will be music in shops, banks and museums and live 'juke-box' performances in shop windows. Previously international acts have been a big feature of the festival. Since 2009 over 50 acts from 20 countries have travelled to perform as part of Lancaster Music Festival's programme. With ever-changing Covid travel restrictions and the chance of cancellation, it is a big risk for acts to travel from overseas. Instead, this year's event aims to feature international musicians who now reside in Lancaster or are able to visit from other areas of the UK.
There will be a day of music around a 'Songs From Home' theme at Lancaster Priory and a world music stage in Sun Square. With 80% of acts being from the Lancaster district in 2019, the festival team and participating venues are keen to continue championing local talent as part of the festival programme. This year there will be a greater focus on young and emerging local acts as a result of support from Lancaster-based record company Fear Records, a partnership which will also see the return of the festival's Search For A Star talent competition in 2022. At the heart of it all will be the pubs, bars and cafes that have been a central theme of the festival from the start. All within easy walking distance of the city centre, there will be over 300 performances by 200+ acts in more than 40 venues.
Publican and new festival board member Tim Tomlinson says that the festival will be a welcome boost to trade following the lockdowns: "My pubs have participated in Lancaster Music Festival since year one and it is always an amazing event. For many pubs it is the biggest weekend of the year, bringing nationwide recognition to Lancaster and I am very proud to play my part in making it happen." Festival director Becca Pattison says "We are all keen to see performers and local businesses flourish again. The festival is a fantastic way to celebrate the return of music and people coming together again. Join us in celebrating Lancaster Music Festival's 13th year and all that the city has to offer with a variety of wonderful performances over the weekend. There will be something for everyone to enjoy, no matter what age or musical taste. Let the music play!"