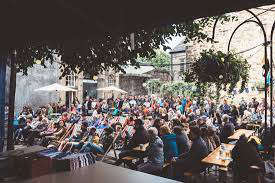 Lancaster Jazz Festival will return to delivering live music this September, the first event since the cancellation of the 2020 festival.
The festival will partner on this all day event with local venue Kanteena, to host nine contemporary jazz artists across two stages on Saturday September 11th from 12 noon until late.
Featuring a headline performance from multi-talented Arun Ghosh and his Quartet, the programme offers something for everyone, from the Bjork inspired vocals of Ariane Mamon to the upbeat energy of Major Ruse and the classic contemporary powerhouse of Wandering Monster.
Festival Director Lucy Woolley said 'It's been a long wait to return to hosting live music, but working with Kanteena we're able to host an event that's safe for audiences and artists alike. We've worked with these artists all year round, and it's brilliant finally seeing them get back to performing live and I've no doubt they'll put on a brilliant show.'
The full programme is as follows -
Arun Ghosh Quartet, Wandering Monster, Major Ruse, Ariane Maron, Rafe's Dilemma, NONUNONU, Kader, Bess Shooter and Off The Rails
Lancaster Jazz Festival is a not-for-profit organisation funded through partnerships and grants. It's put together by a dedicated Festival Team who work year round to produce an ambitious jazz festival based in the centre of Lancaster while having roots in artist development.
The festival support artists year-round, not only making places to play that are accommodating to new and original music but having a company that actively works with and for them, long term.
For more information visit www.lancasterjazz.com