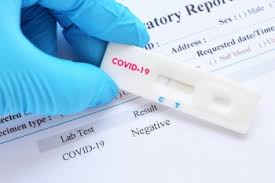 Public health experts are calling for families to "work together" with schools and colleges as thousands of children and young adults in prepare to head back to the classroom.
The majority of Lancashire's primary and secondary schools and colleges will re-open on September 1, following a much-needed Summer break.
On their return, pupils and students in secondaries and colleges are encouraged to undertake two on-site Covid-19 tests. Following on from that, pupils and students are encouraged to continue to take their free, rapid Covid tests twice a week, ensuring they report their results online.
If a school, college or childcare setting does experience a positive case of Covid-19, a change in the law means that close contacts will not have to self-isolate if they are double jabbed or under 18. They will however be strongly advised to take a PCR test, although they will only need to isolate if they test positive. Pupils and students eligible for a Covid vaccine are also being encouraged to take up the offer and get their jab at one of Lancashire's vaccination sites.
Due to restrictions easing across England, face masks are no longer advised for pupils, staff and visitors either in classrooms or in communal areas.
The Government has removed the requirement to wear face coverings in law but recommends they are worn in enclosed and crowded spaces where you may come into contact with people you don't normally meet. This includes public transport and dedicated transport to school or college.
If a school, college or childcare setting experiences a number of positive cases then some temporary measures may be introduced to slow the spread of the virus and mitigate disruption.
Abdul Razaq, Acting Director of Public Health for Lancashire County Council, said: "Schools have worked strenuously during the last 18 months to keep our children, and our education staff, safe from Covid-19.Unfortunately, this has sometimes negatively impacted their education, despite the best efforts of education staff, who have been incredible through the pandemic. We now know that the risk of severe illness in children and young people is low, while there are significant harms associated with missed education. This is why it is so crucial that we help to manage the virus going forward by continuing to test twice-weekly using free, rapid Covid tests. This will help us spot positive cases in people with no symptoms, breaking the chain of transmission and keeping any disruption to our children's education to an absolute minimum."
Regional health chiefs also stated that over the last 18 months children have lost enough days of their education and, as the school and college terms start, they want to work together with parents, guardians, and pupils/students themselves to keep everyone safe and keep Covid rates down. They do expect a slight surge in new cases due to the fact many young people will have not tested over the summer holidays and, with the majority being asymptomatic, are likely to not know they're infectious. However, we hope this will settle down into a low level of cases identified through testing.
Most of the cases identified initially are unlikely to be related to school-based outbreaks, but cases picked up during the holidays. It's crucial to follow the new guidance, get tested, help to isolate positive cases and keep more of our children in education.

Dr Arif Rajpura, said: "As we know, school is a key part of a child's life and is vital for educational progress, wellbeing and wider development. With this is mind, it is really important that everyone connected to school life – children, parents and teaching staff do all they can to support and follow protective safety measures in place. Around 1 in 3 people have Covid-19 without any symptoms so it's really important that students and families at home are testing regularly twice a week to help stop the spread of infection unknowingly.
"If everyone continues to play their part by practicing good hand hygiene, regularly testing at home and getting a PCR (lab) test if you have symptoms of COVID-19; self-isolating if you test positive for COVID-19 then this will help to break the chain of transmission, drive those rates down and help to keep children in the classroom to learn, develop and have fun, safely. Let's all continue to work together, keep school safe and get back to some normality."