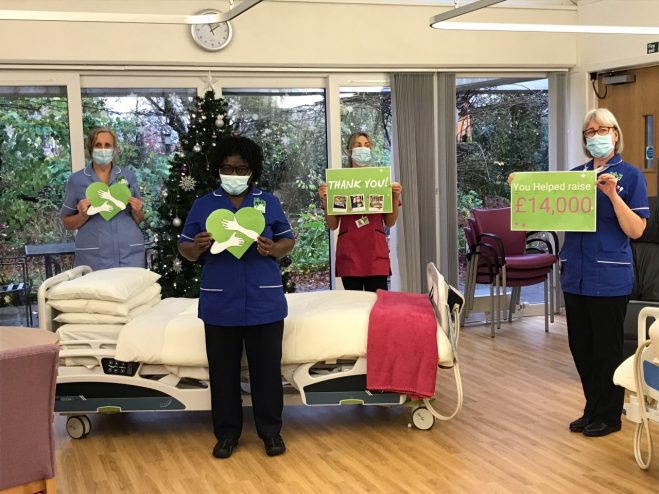 Nursing staff at St John's Hospice celebrate reaching the target
Thanks to the fundraising efforts of the local community St John's Hospice have reached their £14,000 target to buy a specialist 'cuddle bed', helping people to be closer to their loved ones while they are receiving palliative care.  
With nearly 200 donations from individuals and local companies received, St John's Hospice has hit its fundraising target since launching and on-line appeal in October. With sponsored slims, hikes and runs and donations made in memory of loved ones – the cuddle bed appeal touched so many.
David from Kendal, who made a generous gift to the Cuddle Bed Appeal, said

"When my wife was in the Hospice for five weeks, three years ago, we stayed in a room half way down the ward. The room has a fold down bed, which I would pull down and I slept on that every night so I could be beside her, but I wasn't with her. At the time I thought this pull-down bed was great, but when I heard about the cuddle bed, I thought that it was a very good idea. Based on my own experience I know how important the emotional support is as well as the medical support and that was why I wanted to support this amazing appeal."
The cuddle bed will buy patients and their loved ones, very precious moments to together, without the physical barriers of an ordinary bed. Cuddling and physical touch have been shown to reduce stress, decrease pain and intensify bonds between people, and the 'cuddle' bed means patients and their loved ones can have this connection while receiving palliative care.
Maddy Bass, Director of Nursing and Quality, St John's Hospice said,

"We are over the moon that this appeal has successfully reached its target. Years of nursing has shown me how important it is for someone to lay next to their loved one to offer comfort and physical support. At this time of year especially, we can all understand the importance of a cuddle and how it makes you feel. A huge thank you to everyone who has contributed to this appeal for the benefit of so many people."