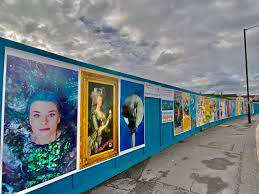 A group of local residents and contributing artists, led by Morecambe Town Councillor Jim Pilling, is seeking assurance that the promenade artworks will be protected as a result of Lancaster City Council gaining control of the Frontierland site.
In a letter to the council Cllr Pilling is seeks to raise the issue of the superb display of artwork produced by local artists which is currently on display on the hoardings surrounding the site.
The letter states that the artworks were produced free of charge by local artists who had to pay for the materials out of their own pocket, and were intended as a "peaceful protest" about the innactivity by owners Morrisons and the city council which has led to the site becoming an eyesore for the last 22 years.
The letter also pointed out that a working group of local people were looking for a Compulsory Purchase Order to be placed on the site with the hope that if successful, a new park would be created with an area for festivals, travelling fairs and circuses and various other events such as markets and performing arts. An area for camper vans was also planned.
With regards to the artwork created, artists had an unwritten agreement with Morrisons that the pieces would remain the property of each individual artist, and that any work done on the site would not cause damage to the artwork. Each artwork panel can be removed quite easily if and when the hoardings need to be removed.The artwork was to find a permanent home in the new park as part of an "arts walk" which would have been one of the biggest outdoor displays of art in Europe.
In his letter Cllr Pilling requests that whatever is decided for the future of the site, that the artwork will remain the property of each individual artist, and that no work will be done on behalf of LCC that would damage the artwork. Cllr Pilling also seeks confirmation that Lancaster City Council will not be looking to develop this site for housing or as a car park.
The group are awaiting a response from the city council.