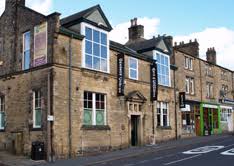 The Gregson Community and Arts Centre in Lancaster is set to reopen its doors as a community-led venue. To help the Centre reopen the Gregson Community Association (GCA) launched a Crowdfunder campaign which is now in its last week.
The Gregson Community Arts Centre is an iconic institution that has played a significant role in the creative and cultural life of Lancaster for more than thirty years. When the Gregson Centre reopens it will be run entirely by the GCA meaning that all profits will be reinvested back into the Centre to enrich the cultural life of the city.The fund has reached an amazing £26,000 and the GCA hope to see an increase in the amount raised in the final days.
However, at this exciting time in the organisation's history, it is also facing its biggest ever challenge. Covid-19 forced the venue to close its doors in March 2020 leaving it with no income other than Government and local authority support for over a year. Since then, a team of volunteers and the GCA trustees have been busy renovating the building, and are now asking local people to help them get the Gregson back open as soon as possible, and support its exciting plans to be at the heart of the local community
The growing team of volunteers is committed to working with Lancaster residents to offer activities that meet the needs of their community in creative, fun and inclusive ways. The beloved café-pub and food offer will also be re-opened as a place to socialise and relax as soon as possible.
Billy Pye, Chair of the Gregson Community Association said,
'It's an exciting new beginning for the Gregson that's been a bit scary at times. There has been so much love and support shown for the Gregson which has really helped along the way. The building is also looking great and we can't wait to reopen and share it with everyone'
The Crowdfunder campaign ends on May the 16th and the very next day the Centre will be open for hires and hopefully a Café / Bar offer opening in the Hall in the weeks afterward.
One person working hard to get the centre open again is Jamie Murphy, a trustee of the Gregson Community Association Charity, who has been running to help raise money for the centre. Over the 25 days he's run so far, he has covered over 100 miles and aims to complete at least 130 miles in 30 days. For each run he has posted a blog celebrating the music and dance events he has been to over the last 30 years. Jamie said,
"The Gregson has been a fantastic source of community music for me. I have so many memories of brilliant nights out and amazing festivals it's hard to decide, but Lancaster Music Festival, Lancaster Clocks Back Festival and the fantastic Irish Folk Music sessions in the bar are my personal highlights.'
Please help to get the fund up to £30,000 in this final week. To support the appeal visit the Crowdfunder site here. The team at the Gregson also encourages you to spread the word about this campaign through social media using the hashtag #YourNewGregson