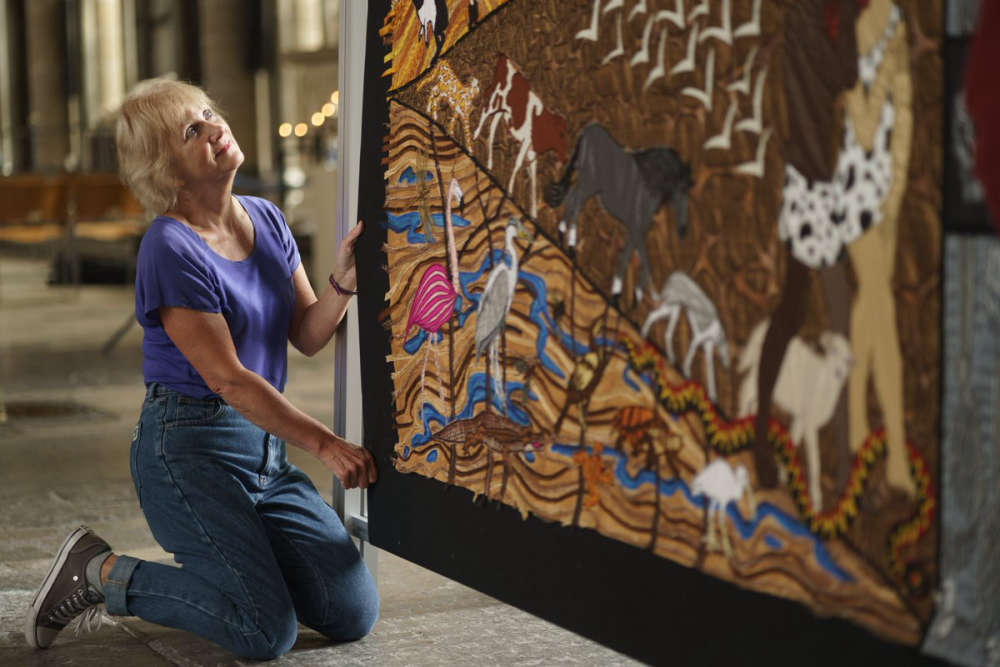 'Threads through Creation' is an extraordinary exhibition of huge exuberant textile panels which has just started a tour of UK cathedrals and major churches. It's on show now in Lancaster Priory to 3rd of November.
Jacqui Parkinson is a textile artist whose work has been displayed in most of the cathedrals of England. Visitors to Lancaster Priory will have a chance to see some of her latest superb work.
If you think of stitching on your lap or kitchen table, think again! Jacqui works big. Really big. 'Threads through Creation' has taken nearly three years and consists of 12 huge panels, 2.7m high (8ft), and as wide as 3.5m (11ft) wide. After Lancaster, the exhibition will be touring some dozen cathedrals.
The panels re-imagine the days of creation described in the book of Genesis at the start of the Bible. They start with dramatic, stark elemental designs. Then, as the story unfolds, things become more and more exuberant, with increasingly spectacular designs and astonishing colours.
It's very attractive and highly accessible for viewers of all ages. Jacqui has developed a remarkable skill in characterising creatures through stitch. There are dozens of them to spot. Her depiction of creation is vibrant and beautiful. And often she adds a touch of fun, for example one panel includes a dog trying to talk to a monkey; in other panels creatures are jumping out of the frame, full of life.
Jacqui uses a unique technique. She starts with antique bedsheets, that she feels hold their own tales of life and death. She quilts them, and paints them with fabric dyes. She then overlays these with layers of silk, stitches them together in a thick black thread, using a free motion sewing machine: this allows her to build up a drawing line upon line . It took about eight million stitches. The dyes and silks combine to create a complex and vibrant background for the appliqued work on top. The result can be extraordinarily complex when you look close up. She also finishes most panels with metallic leathers and gold leaf.
Lancaster Priory's new Vicar, Canon Leah Vasey-Saunders said, "It's a wonderful opportunity to have this lovely exhibition here. As the evenings draw in, Threads Through Creation should give visitors a real lift. It's a fun and inspiring exhibition which everyone will treasure and enjoy."
Open Monday-Saturday, 9am-4pm. Admission is free: donations are welcome. Groups of ten or more requiring a supported visit should contact steph@lancasterpriory.org