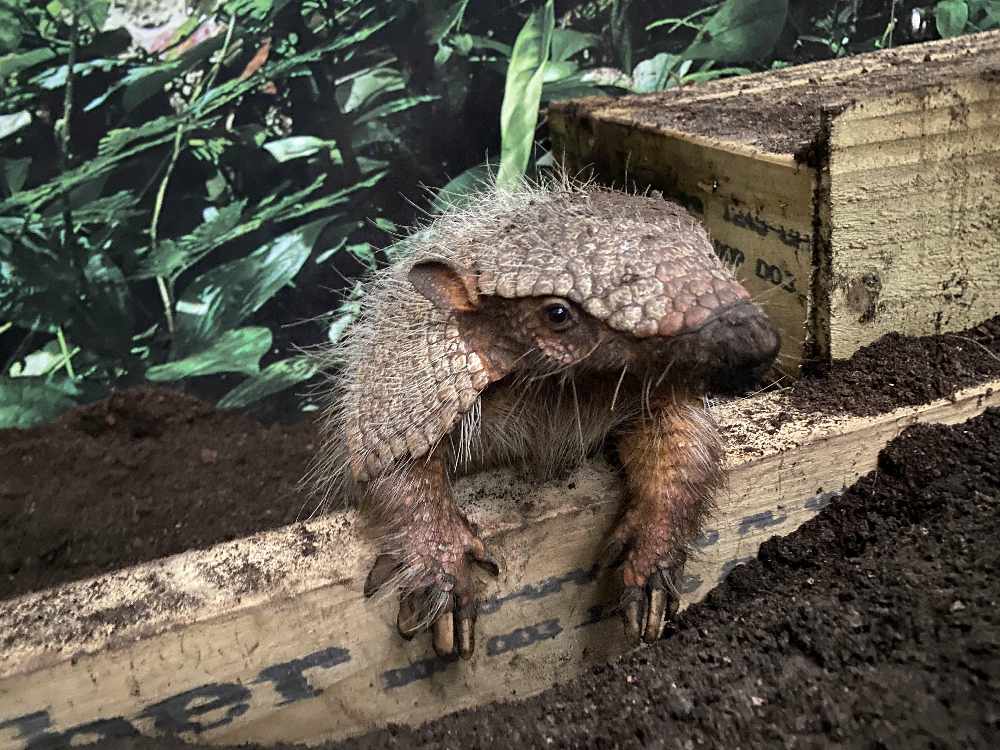 Dozer posing for the camera at Lakeland Wildlife Oasis
Visitors flocking back to one of the district's most popular attractions are being captivated by the chance of budding amour-plated romance.
With future-positive building projects, and welcoming a flock of new arrivals, staff at Milnthorpe's Wildlife Oasis north of Carnforth were determined lockdown wasn't going to disrupt their planned 'New-arrivals November'.
The most anticipated arrival at the award-winning conservation zoo, is a brand new armadillo who joins existing favourites and social media stars: Tank and Nessa.
Earlier in the year, hope for a baby from the pair dwindled, as it seemed the chemistry between Tank and Nessa just wasn't there and now they seem happy to remain 'just good friends'. The zoo's dream of having the first home-bred armadillo family in Cumbria was scuttling away, until boosted by the offer of another male from a fellow zoo.
This pint-sized prospective Romeo comes with a good "fathering CV" so it's everything crossed for a Christmas conception.
"It did feel a bit like 'Blind Date', introducing a rival to poor Tank," says manager Jack Williams. "Dozer is only half his size, but Nessa can be reassured, he comes with a good dating history! They're getting to know each other, so Tank has been relegated next door, but happily, he's taking it all in his laid-back giant stride."
It's the more armadillos the merrier for zoo visitors. Forgetting they're meant to be nocturnal, the Oasis's inhabitants are a big hit scampering around their bespoke assault course. Fresh hope for the patter of tiny paws could provide the best Christmas present for zoo staff and visitors alike.
In other news, visitors have said goodbye to the male fossa, Manakara as he's needed in a zoo in Holland, as part of the European Breeding Programme. A new male is coming soon, so his enclosure won't stay empty for long.
Other new arrivals being eagerly spotted by returning visitors include cheeky new emperor tamarins into the perpetual-motion monkey enclosure. A young potoroo joey joins the zoo's popular pouched, pint-sized marsupial family, while new spreo starlings swoop into the aviaries.
"We're fully committed to long-term conservation and education around many endangered species," confirms Jack. "This also gives our visitors a window onto different species and individual animal personalities. Whether that's Fossa First Dates, Tamarin Love Island, or Armadillo Blind Date, we're definitely in it for the future!"
Lakeland Wildlife Oasis is now open everyday.