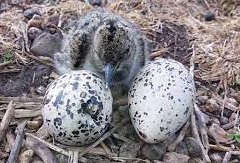 Morecambe Bay Partnership is calling on local people using the coast this summer to help bird populations as the breeding season continues.
Simple changes to our behaviour during the breeding season according to the partnership will give the young chicks the space they need to survive and help the bay retain its wide variety of birdlife.
Beach-goers, off-lead dogs and vehicles pose a huge threat to birds like oystercatchers and ringed plover: eggs can be accidentally crushed and adults are scared away from their chicks, leaving them more at risk of attack from predators like crows and foxes.
Amy Hopley, Morecambe Bay Partnership's Nature and Wildlife Officer says "Right now, beach nesting birds have young chicks that aren't yet able to fly, and depend on their parents to keep them safe. When you're visiting a beach, especially if it is on a coastal nature reserve, it's important to look for signs that indicate there are birds nesting on the shore. Keeping to paths and keeping dogs on leads will keep them safe until they are strong enough to fly at the end of summer."
There are three easy things that everyone can do to help chicks survive. When visiting a beach:
1. Look for signs and follow instructions on them
2. Keep to marked paths and out of cordoned-off areas
3. Keep dogs on leads where requested to do so
Iconic Morecambe Bay birds like oystercatchers, eider ducks and ringed plover lay their eggs directly onto pebble, sand or shingle beaches. Their eggs and chicks are extremely camouflaged – an adaptation that keeps them safe from crows, foxes or other hungry predators, but means they are very vulnerable to disturbance or destruction by human activity.
Amy adds "the chicks won't be able to fly until about 3-4 weeks after hatching, so are extra vulnerable during this time."
Morecambe Bay Partnership is working with the RSPB to protect these feathered families by raising awareness of how everyone can help coastal birds raise their chicks successfully. Find out more about the Life on the Edge project here https://www.projectlote.life/