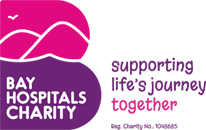 A Christmas Charity Auction with a wealth of fantastic lots will be launched by Bay Hospitals Charity on Friday 4 December.
Bay Hospitals Charity - the charity of University Hospitals of Morecambe Bay NHS Foundation Trust – is delighted to offer this opportunity to bid for wonderful lots including an iPad, a helicopter city ride from Virgin Experiences, a Cello 50 inch smart TV, Sony wireless headphones, D&G and Marc Jacobs perfumes, a Nutribullet, a Reisser Crate Mate, a hamper from ASDA, an iPad mini, a Jo and Cass Hair Salon voucher, a Fire TV Cube, DIY tools, a Google 'Home', a Cello 32 inch LED TV with DVD player and a choice of Gift Experiences from Take Time.
The Christmas Charity Auction will start at 9am on Friday 4 December and will run until 9am on Monday 7 December. It's a Facebook auction and the charity is asking people to make their highest bid by Messenger or by emailing charity@mbht.nhs.uk
A top tip is to use both pounds and pence when placing your bid, for example, £25.77. That way there is more chance of securing the bid. If bids are tied, the charity team will contact the highest bidders and let them make one further bid to secure the lot.
The full list of the charity lots will be posted on Facebook this week (please search Bay Hospitals Charity to find the page) and then the actual auction will go live on Facebook at 9am on Friday 4 December. Each lot has the name of the company that has donated an item for the auction.
Keith McIntyre, an Engineering Manager from UHMBT's Works Department and a 'Bay Hospitals Charity Champion', has worked hard with his team mates to secure items for this year's auction.
Keith said: "Something just touched me when the charity put out a call for donations for the auction.
"The charity team does amazing work and their fundraising brings about improvements for patients and staff in our hospitals. It's greatly appreciated. Finding donations for the auction is something that the Works team has been helping with for the last couple of years. We've had a really good response this year.
"We contacted our suppliers to see if they could donate lots. A few of our guys got involved. This year it has grown and we have had more donations than ever from our kind and generous suppliers. A lot of the suppliers have been working with us through the COVID-19 pandemic and have been keen to make donations. They want to support the NHS and make a difference to people."
Judith Read, Bay Hospitals Charity Manager, said: "Everyone is welcome to take part in our Christmas Charity Auction and we hope it will raise a good sum to enhance patient care.
"We are hugely grateful to all of the businesses and individuals that have donated items for the auction. There really are some fabulous lots this year!
"Keith McIntyre and his team from the Works Department deserve special thanks. Keith has been so supportive; he is a superstar. We would have really struggled this year had Keith and his team not contacted local businesses with links to the hospital to ask for donations for the auction.
"If you see something you like in the Charity Auction, make sure you don't miss out. Why not buy early for Christmas or treat yourself just because you are worth it! We would appreciate it if everyone could share the details of our auction with friends, family and colleagues. Our fundraising has been curtailed this year, severely affecting the donations we would usually receive, which in turn impacts on how we can help our local NHS. All support will make a massive difference.
"I know it's a little early, but I would like to wish all of our charity supporters a very Merry Christmas and all the best for the New Year."
You can find the Bay Hospitals Charity Facebook page on this link: https://www.facebook.com/bayhospitalscharity
The Bay Hospitals Charity website is on this link: http://www.bayhospitalscharity.org/