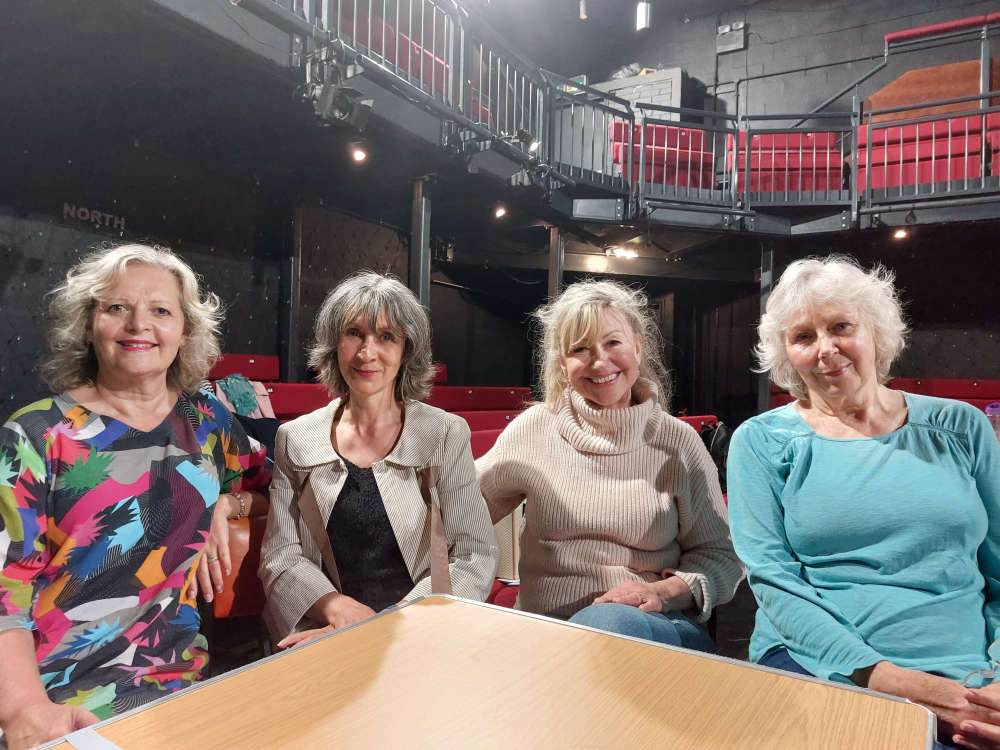 Kerry Willison-Parry, Christine Mackie, Sue Jenkins and Roberta Kerr
The four actors involved in a new dark comedy coming to a Lancaster theatre have shared their memories of working on Coronation Street.
Christine Mackie, Roberta Kerr, Sue Jenkins and Kerry Willison-Parry, who are bringing the new show Kin to The Dukes from May 25 to 28, have all appeared in the legendary soap.
Christine, writer of Kin, is part of the present cast as the recurring character Dr Gaddas.
Roberta, who plays Kay in Kin, is soon to return to the Street as Wendy Papadopoulos, better known for her late 80s stint as Ken Barlow's love interest Wendy Crozier.
Sue, director of Kin, played Rovers Return barmaid Gloria Todd in Corrie during the 1980s, and her son Richard Fleeshman also starred as Craig Harris.
Kerry Willison-Parry, who plays Steph in Kin, has also appeared in the soap in two roles as a customer of Audrey Roberts' salon and a vicar.
LISTEN to Christine, Roberta, Sue and Kerry sharing their memories of working on the nation's favourite soap opera:
Their new play Kin is described as a dark comedy about power, money and succession.
It stars Roberta and Kerry as sisters-in-law, who meet at a funeral for the first time in years.
"I've long wanted to write a play which puts older women centre stage," said Christine.
"I'm very interested in the idea of humour being always present even in the darker moments of life.
"So this play is a dark comedy, it is funny, very moving, and you will meet two women who have known each other for a very long time, have very little in common, and then they meet and the fireworks start."
Sue said: "Rehearsals are going very well. I remember Chris saying to me, it's a bit Game of Thrones as well, and it is. It's a real page-turner. It's unpredictable. You think you know what it's going to be, but you don't!"
Roberta said: "My character is about to have her entire world turned upside down. She starts off thinking one thing about her life, and then the rug is pulled out from under her. It is intriguing."
Kerry said: "I'm the rug-puller! I appear in Kay's life and I set off a whole stream of events that is totally unexpected for Roberta's character and the audience."
LISTEN to Christine, Roberta, Sue and Kerry talking about Kin and their connection to our local area:
Christine, an honorary patron of The Dukes who lives in Lancaster, had her first job at the theatre in 1979, and Roberta was one of the first people she met there.
"I cannot imagine being in this town without The Dukes, in terms of involvement, entertainment and community," she said.
"I'm very grateful."
Roberta, who too lives in Lancaster, also has a long-standing connection to the theatre.
"I can't remember how many shows I've done here, I've done a lot of shows here," she said.
"When my son was born, he saw every single Williamson Park show, and that for me is another fantastic thing about The Dukes, setting kids off in their life with theatre."
Kerry is from Barrow-in-Furness and lives in Ulverston. This is her first show at The Dukes but she has fond memories of attending the summer park shows run by the theatre.
Sue, whose daughter went to Lancaster University, said "it's such a buzzy place, it's full of life and creativity". This is also her first show at The Dukes.
Performances run from May 25 to 28 at 7.30pm, with an additional 2.30pm performance on Saturday May 28.
Tickets are available at dukeslancaster.org
Related story: Lancaster actor returns to her iconic Coronation Street role - Beyond Radio