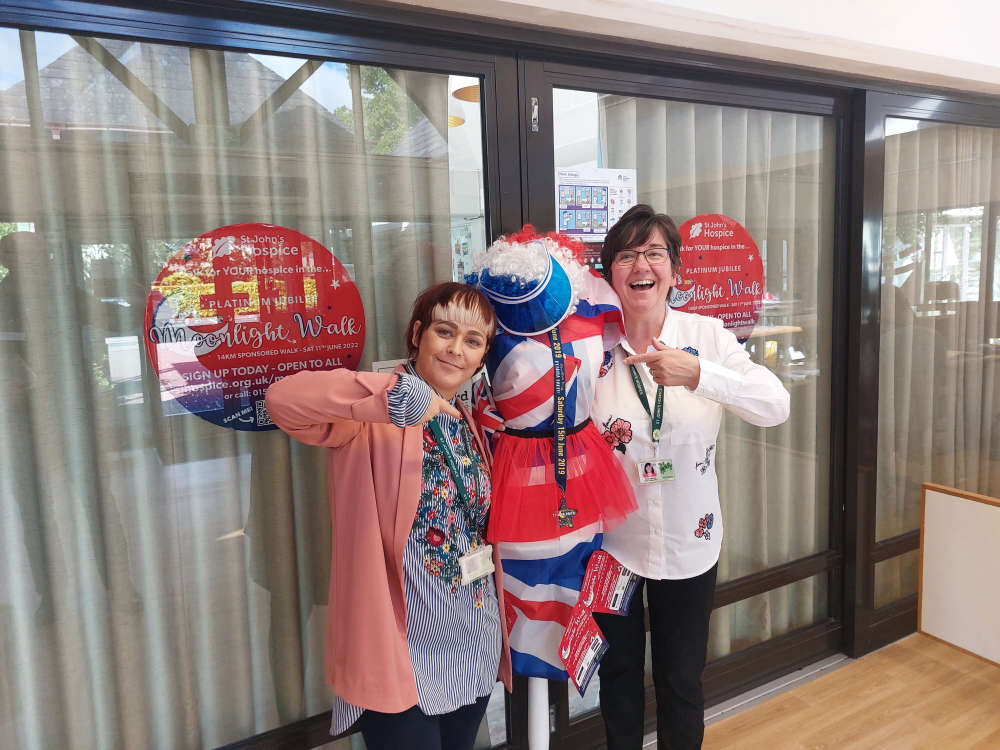 Roz Horner and Tracy Jackson with the St John's Hospice Moonlight Walk mannequin 'Darlene'!
We have been chatting to Roz Horner and Tracy Jackson from St John's Hospice in Lancaster to find out all the info about the 2022 Moonlight Walk.
Roz and Tracy have been telling us about the 16th Moonlight Walk to raise funds for the hospice, this year taking place on Saturday June 11.
The walk starts at the hospice and is open for the second year running to everyone aged 11 and over.
This year's walk is themed on the Queen's Platinum Jubilee and fancy dress is very much welcomed!
LISTEN to Roz Horner and Tracy Jackson talking about the 2022 Moonlight Walk:
There is a £15 sign-up fee, and walkers will receive a special crown-themed medal, a T-shirt, as well as hot food and fizz at the finishing line.
Each participant is being asked to pledge £40 of sponsorship money.
The walk starts at 8pm and there will be pre-walk entertainment hosted by Beyond Radio, as well as local samba drummers Samba Espirito.
Under 18s must walk with a responsible adult.
Roz Horner, fundraising executive at the hospice, said: "Sign up today, step out of your comfort zone and your pyjamas, and come and join a party that you won't forget!
"Let's keep the jubilee party going!"
The 9 mile walk will start from the hospice on Slyne Road and take a route back to the hospice via Slyne, the Coastal Road, the promenade, Morecambe Road and Ryelands Park.
Tracy Jackson, St John's Hospice health and safety officer, said: "I enjoy doing the walk, every night has been different in all the years that I've done it.
"It's not just the walk itself, it's the build-up beforehand and how you feel afterwards. It feels like a party vibe.
"Most of us know someone who has been impacted by (cancer) and even if you haven't, come along, you'll have a really good fun night out."
To sign up call Roz on 01524 551199.
More information can be found here.
Here are some photos from the 2021 St John's Hospice Moonlight Walk, by our Beyond Radio photographer Andy Slack.