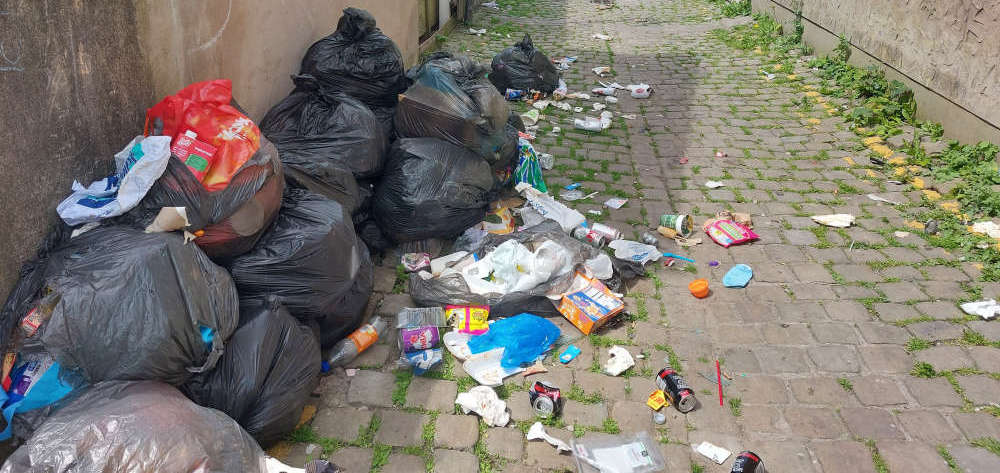 CCTV will be used to catch culprits as part of a major crackdown on fly-tipping across the Lancaster and Morecambe district.
The idea of using mobile cameras was revealed as city councillors backed plans to focus on reducing illegally dumped rubbish in our local area.
Lancaster city councillors met at Morecambe Town Hall on Wednesday night for talks on the issue, as a six-week trial is taking place to try to reduce fly-tipping in certain areas of the district.
The trial scheme has seen 'crime scene' tape placed on illegally dumped rubbish in the Harbour (West End of Morecambe), Skerton East, Skerton West and Overton wards, and 'social impact stencils' used in Poulton and Harbour wards.
See below for an example of a social impact stencil in the West End of Morecambe.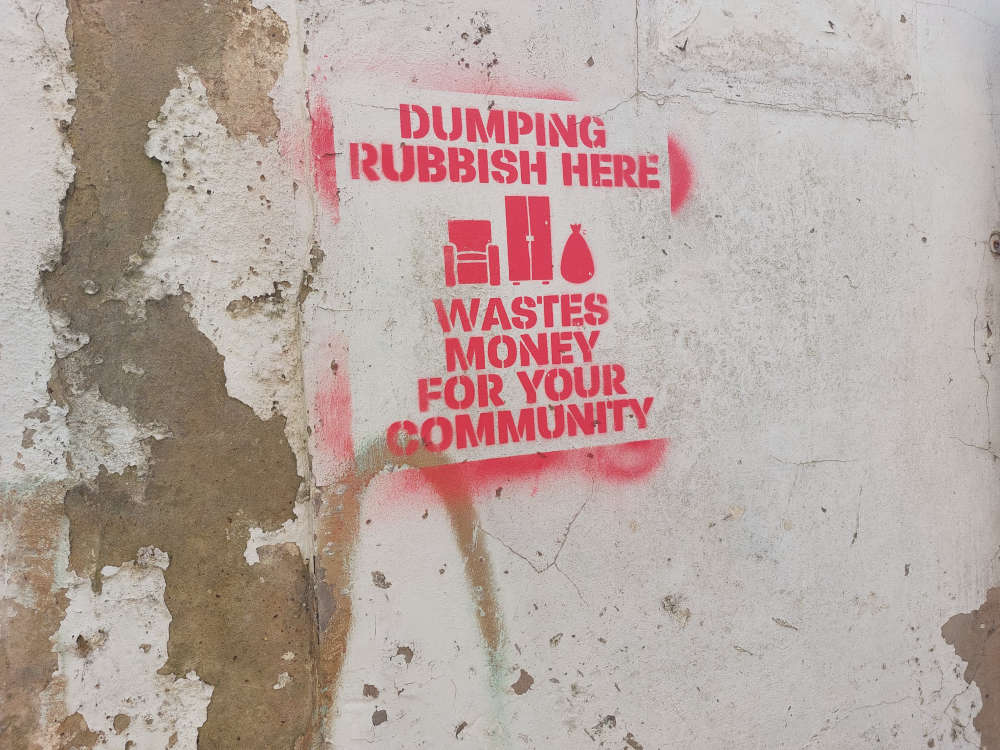 Related story: 'Crime scene' tape targets fly tipping grot-spots in Morecambe and Lancaster - Beyond Radio
Speaking at the meeting, Councillor David Whitaker said there had been some complaints from residents about the chalk messages appearing abruptly on walls in the West End of Morecambe, without prior notice.
Councillor Dave Brookes, cabinet member for environmental services, explained the advice from Keep Britain Tidy had been to use the "shock factor" to "get people talking and thinking" about the impact of fly-tipping.
The Green party councillor said: "The signs are that the campaign is working."
There was cross-party support for a motion asking for the council to renew its focus on fly-tipping, with many councillors speaking out in favour of the proposals.
Labour councillor Whitaker, who proposed the motion alongside colleagues Robert Redfern, Jason Wood and Colin Hartley, said fly-tipping was the "number one complaint in the West End" and called for a "community-led campaign".
Conservative councillor Adrian De La Mare called for a "no tolerance" approach and for the council to become known for prosecuting offenders, as fly-tipping is a criminal offence.
Labour councillor Phillip Black said he believed "compassion" was needed in some cases, saying there were "people in our communities who don't have a lot of money and don't have access to vehicles" and "we need to educate people on how they can dispose of their rubbish".
There was also widespread praise for the work of the council team who clear up illegally dumped rubbish.
Councillor Malcolm Thomas, from the Conservatives, said: "(The council) employees are first-rate, to do that job week after week, and we are grateful for that."
Lancaster city councillors voted overwhelmingly in favour of the motion.
The council will now provide a report to all elected councillors within three months on the impact of the social impact stencils six-week trial in Poulton and Harbour wards; and crime scene tape trial on instances of fly-tipping in Harbour, Overton and Skerton East and Skerton West; and provide quarterly updates to the local community on all initiatives to further reduce fly tipping across the district, starting no later than November 2022.